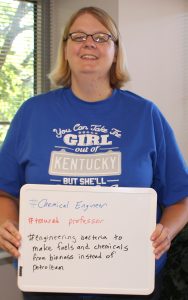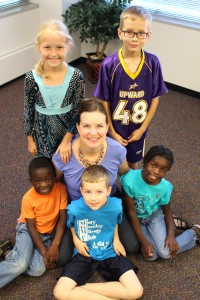 A one-woman effort to stand up for diversity in engineering on social media has caught fire worldwide – and Iowa State's Department of Chemical and Biological Engineering (CBE) has proudly jumped in with both feet.
In a coordinated effort, the department joins women, men, engineers of all ages and all ethnic backgrounds, students, and people of all levels of experience. The "I Look Like an Engineer" Twitter campaign, here, #ILookLikeAnEngineer, aims to have some fun while at the same time driving home the point that anyone can be an engineer.
Dr. Laura Jarboe, a professor in ISU CBE, noticed the campaign and was a key figure in getting the department on board with it. "We wanted to celebrate our very diverse department by being a part of this," she said. Numerous CBE faculty members, graduate students and postdoctoral students have so far had their photos taken, many holding a dry erase board with personal messages written – ranging from "I engineer the interface between biology and implanted materials – and I also love pink" to "I'm Mexican and I'm an engineer" to "I have been an engineer for 65 years." Department chair Any Hillier was one of the first in line to get his photo taken, with a message that ended with the line "#I don't know what a hashtag is."
The "I Look Like an Engineer" movement was started by Isis Anchalee, a young female platform engineer in the San Francisco area, who was shocked at sexist responses she received after she was included in an advertisement on behalf of her company. She set out to shatter the stereotypical image of a white, "geeky" male engineer. Her original intent may have been to gain equality for women, but the plan has branched out to include anyone.
While some individual engineering students at Iowa State have tweeted as part of I Look Like an Engineer, the CBE plan is thought to be the first organized effort to join the movement at ISU. "It's our hope that other engineering departments and their students and faculty will jump on the bus and help spread the awareness of this fun and interesting campaign," said Jarboe.
You can follow CBE's "I Look Like an Engineer" tweets on the department's Twitter wall at "IowaStateCBE" in the days ahead.
For more information on the genesis of the campaign click here.