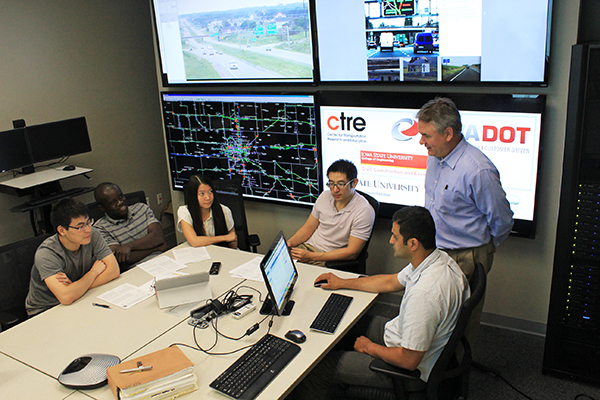 Many Iowa State University students, faculty researchers, and engineers at the Iowa Department of Transportation (Iowa DOT) have partnered to develop traffic solutions for Iowa's highways.
Neal Hawkins, director of the Center for Transportation Research and Education (CTRE) and adjunct lecturer of civil, construction and environmental engineering at Iowa State, and Mike Jackson, state traffic operations engineer at the Iowa DOT, have led the development of the Traffic Operations Laboratory. The state-of-the-art teaching and research laboratory, which opened in October 2014 at Iowa State's Institute for Transportation, tracks real-time sensor and video data – big data – using highway cameras and traffic sensors.
Four 70-inch TV screens, each capturing an element of Iowa highway data fed by a fiber optic connection, comprise the south wall of the lab. On the north wall, an interactive whiteboard inspires formal instruction or closer inspection of a highway traffic issue. Every 20 seconds, researchers non-invasively track 31,000 miles of Iowa highway traffic from driver cell phones, truck sensors, other vehicles that contain GPS devices, and highway cameras. An interactive black map showcases all major traffic issues throughout Iowa, like a sharp reduction in average traffic speed in a given location, in real time. Seventeen computers store many terabytes of data, which researchers analyze to produce and recommend traffic operations solutions to Iowa DOT engineers. A meeting space fit for a dozen-plus can be adjusted for classroom, research, or visitor use.
Iowa State's Department of Civil, Construction and Environmental Engineering (CCEE) is an integral component of the lab. "Without faculty and students, we cannot grow and innovate," Hawkins said.
Two additional key participants in developing and conducting research through the lab include CCEE Associate Professor Anuj Sharma and Skylar Knickerbocker (MSCE'12). Additional Traffic Operations Laboratory faculty researchers include CCEE Assistant Professor Jing Dong and CCEE Associate Professor Peter Savolainen. A team of 18 Iowa State students across civil engineering, computer science, and architecture disciplines also participate in research activities.
Iowa State executes a wide variety of Iowa DOT projects through the Traffic Operations Laboratory. "We facilitate faculty and staff research for Iowa DOT operations support," Hawkins said. "The lab was developed to accommodate and provide real time data for teaching graduate-level traffic operations classes."
Since October 2014, researchers have ensured data quality and reliability. Graduate students are instrumental in this key step toward implementation. For example, first-year transportation doctoral student Tingting Huang evaluates sensor data trends. Chenhui Liu, a third-year transportation doctoral student, analyzes traffic signal control.
The next step will be to use solutions. Sinclair Stolle, the 511/traveler information program engineer at the Iowa DOT, uses lab-based solutions to facilitate mobile and online communication to highway drivers.
Driver notification is the Iowa DOT's top priority as it implements Iowa State-based recommendations. "Our goal is to refine, improve, and enhance Iowa traffic operations for the benefit of the Iowa taxpayer," Jackson said.