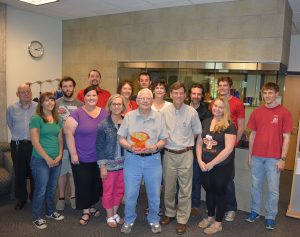 The Department of Materials Science and Engineering gathered to celebrate a milestone birthday for Professor Emeritus Dr. Thomas McGee. McGee celebrated his 90th birthday June 9, 2015 with a reception attended by friends and colleagues.
McGee has been a presence at Iowa State for nearly 70 years. He earned two bachelor's degrees, one in Ceramic Engineering and one in Mechanical Engineering, in 1948. He later earned his master's degree in Industrial Engineering in 1958 and two Ph.Ds in Ceramic Engineering and Metallurgy in 1961. He joined the Iowa State faculty in 1956, working his way up the professorship ranks to become a full professor by 1965. In 2007, he became a Professor Emeritus in the Department of Materials Science and Engineering.
McGee is known for his work with brittle materials and his contributions to bone implants. He is the inventor of artificial bone implants called osteoceramics, which are biological composite implants used instead of a bone graft taken from the patient. The calcium phosphate in the implant spurs bone growth and repairs the cracks that can form. He has earned international acclaim as a leading expert in temperature measurement, refectories, glass science and technology, and biomaterials. Additionally, his work with surgical applications has earned him nine granted or pending patents.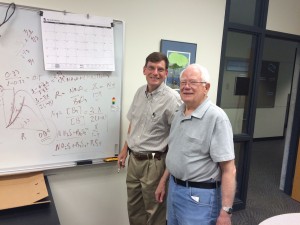 In his time as a professor at Iowa State, McGee was the lead author or a co-author on over 70 research publications. He also McGee served as a faculty advisor on more than 100 graduate student committees.
While MSE was his primary home base, McGee worked with other areas of campus, including biomedical engineering and veterinary medicine. His interdisciplinary work later led to the creation of the McGee-Wagner Interdisciplinary Research Fund aimed at bringing together scientists from various disciplines to work together in solving problems and making new discoveries.
McGee won numerous awards for his work both in the classroom and the lab. In 1983 he received the Outstanding Professor in Ceramics Engineering Council Award and was named an Outstanding Engineering Educator by the Engineering Student Council in 2001. Additionally, he was named an American Ceramic Society Fellow in 1979 and in 2000 was named a fellow of the National Institute of Ceramic Engineers.
A lifetime member of the ISU Alumni Association, McGee has been recognized for his continued service to the University. He received a Faculty Citation from the Alumni Association in 1988 and is a member of the Order of the Knoll President's Circle and Campanile Society. Most recently, in April 2015, McGee received the Order of the Knoll Faculty and Staff Award, recognizing those current and former Iowa State employees whose involvement with the university and foundation has made a substantial impact on philanthropy at Iowa State.