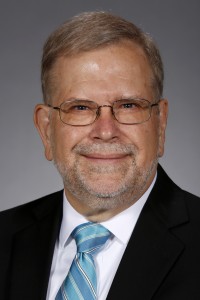 The American Institute of Aeronautics and Astronautics (AIAA) announced today the results of its 2015 Board of Directors election. Richard Wlezien, department chair of aerospace engineering, has been elected to vice president-elect of education. The newly elected board members will begin their terms of office on May 7.
President-Elect
James "Jim" Maser, Pratt & Whitney
Vice President-Elect, Education
Richard Wlezien, Iowa State University
Vice President-Elect, Public Policy
John Rose, The Boeing Company
Director–At-Large
Ben Marchionna, Lockheed Martin Corporation
Director–At-Large, International
Christian Mari, SAFRAN Group
Director–Technical, Aerospace Design and Structures Group
Achille Messac, Mississippi State University
Director–Technical, Aerospace Sciences Group
Jim Keenan, U.S. Army, Aviation and Missile Research, Development, and Engineering Center
Director–Region 2
Mark Whorton, Teledyne Brown Engineering
Director–Region 3
Daniel Jensen, Rolls-Royce Corporation
Director–Region 6
L. Jane Hansen, HRP Systems Inc.
"Congratulations to all of the newly elected Directors," said AIAA President Jim Albaugh. "Your election reflects the confidence that the AIAA membership has in your abilities and also your commitment to the aerospace industry. I look forward to working with all of you."
AIAA is the world's largest aerospace professional society, serving a diverse range of more than 30,000 individual members from 88 countries, and 95 corporate members. AIAA members help make the world safer, more connected, more accessible, and more prosperous. For more information, visit www.aiaa.org.
To read the original AIAA press release, click here.