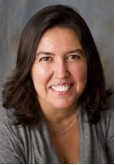 Ana-Paula Correia, associate professor in the School of Education and faculty member of the Human Computer Interaction (HCI) program, has been selected as a Faculty Fellow in ISU's Engineering-LAS Online Learning (ELO) for 2015-2016. As ELO's first Faculty Fellow, Correia will work to establish a research framework to support Scholarship of Teaching and Learning (SoTL) for online courses and projects in the College of Engineering and College of Liberal Arts and Sciences.
Correia will collaborate with ELO staff to identify appropriate research methodologies, develop data collection instruments, and research online courses and other online experiences developed by faculty and ELO. Additionally, she will assist faculty, ELO staff, and graduate assistants in disseminating findings at reputable venues and through peer-reviewed journals in SoTL, education, and the faculty's disciplines.
At ISU, Correia is the program director of the Instructional Design Graduate Certificate Program and is the founder and leader of the Learning Design Research Group.