Automation is increasingly a driving force behind manufacturing.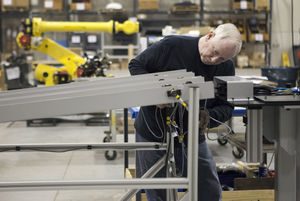 A group of area business representatives and educators spent Tuesday learning about robotics and toured Acieta's Council Bluffs facility through a program organized by the Southwest Iowa Manufacturers Alliance for Quality.
The alliance brings together manufacturers served throughout Iowa Western Community College's seven-county area. Its spring event featured Chris Hill of Iowa State University's Center for Industrial Research and Service speaking on automation concepts and a tour of Acieta, an industrial automation supplier that has partnered with Iowa Western for workforce development programs.
Group members included delegations from the Riverside Community School District, Jack Links in Underwood and others from Oakland, Harlan, Pella and elsewhere in the state.
Starlyn Isaacson, the college's coordinator for economic development, said the college hears from a wide array of industry and service providers about the need for skilled workers.
She reviewed some of Iowa Western's business partnership programs, echoing an earlier call from the college to continue to expand internship and apprenticeship programs.
"Apprenticeships are a growing field that we have seen in the past two or three years," said Matt Mancuso, the college's director of corporate training. "Electromechanical is the most popular, but it's not that we can't do other ones."
Robotics is becoming a more economical choice for industry because prices are falling, Hill said. Several studies have shown that people are looking to supplement the workforce, making training in automation important.
"It can impact all areas of a business," Hill said.
CIRAS, the center at Iowa State to be featured at an upcoming SWIMAQ event, looks to find automation projects that provide at least a 200 percent return on investment, he said.
Josh Cirbo, engineering services manager for Acieta, was one of the tour guides for the SWIMAQ group. He showed off the various sizes of robots the company uses, although the largest class – capable of assembly the cab of a tractor in 20 minutes – wasn't set up at the facility.
"The bigger they get, the slower they get," he said. "We have 21 robots coming in on Friday, and those are for jobs we already have booked."
Shifts run 8 to 14 hours at the company, he said, and about half of Acieta's business is for material handing, a quarter for welding and a variety of other automatization projects making up the remainder.
Customers aren't necessarily big names, but Cirbo said Acieta supports a lot of businesses that do work for such companies.
"We work a lot with the people who supply Ford and GM," he said.
A well-maintained robot can last for a couple decades, he said, although many manufacturers replace them sooner because they want to access new technology. In his remarks at Iowa Western, Hill outlined the pros and cons businesses ought to consider when they want to invest in automation.
Beyond equipment costs, manufactures should consider shipping, rigging, infrastructure – such as floors, power and lighting – and other potential impacts, such as training needs and keeping spare parts.
Potential benefits go beyond direct labor savings and reducing scrap, he said. Automation can reduce (or increase) energy consumption, save on downtime and overtime, can increase sales potential and otherwise change processes.
He said Iowa State's CIRAS doesn't look at robotics as a way to drastically slash jobs. Instead, because good people are hard to find, he said automation is a chance to have them add value and avoid repetitive, routine tasks, which can be made to a more uniform quality by machines.
"We look at it as a redeployment opportunity," Hill said. "It can really be a potential to detect defects."
Automation can also save space, reducing the needs to expand buildings, an expensive capital outlay Iowa Western is currently doing by adding a dedicated engineering building to its campus in time for next school year.
Acieta currently offers laboratory space for Iowa Western students studying robotics, a partnership that Iowa Western President Dan Kinney said allowed the college to start the program before it finished its new engineering building, which is slated to open in July.
Kinney said the Council Bluffs business has been a great partner, allowing the college to offer experiences to students it otherwise couldn't have done.
"We had no space because for us to implement a new program like that, it takes time," he said. "We wouldn't have started the program yet if it wasn't for Acieta."
On Tuesday afternoon, several Iowa Western students were working on their capstone projects, Cirbo said. He said they walk into the class in January to find their robots dissembled on pallets and have to put it back together.
"They get really into it," he said.
This story was originally written by Scott Stewart of the Daily Nonpareil.