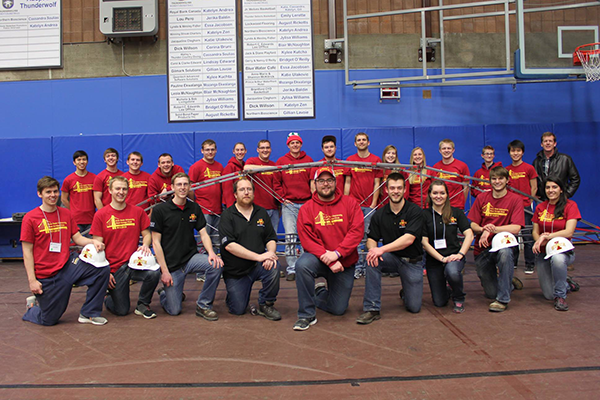 Seven months of planning, fabrication, and practice culminated in less than 30 minutes recently for the Iowa State University Steel Bridge Team. On March 7, Cyclone civil engineering students rapidly built a scaled steel bridge inside Lakehead University CJ Sanders Fieldhouse, a 12-hour bus ride north from Ames to Thunder Bay, Ontario, Canada.
The Iowa State steel bridge placed second in the 2015 American Society of Civil Engineers (ASCE) Midwest Region Student Steel Bridge Competition. Cyclone engineers won the display category, contributing to the high overall mark. Iowa State was one of 10 universities to compete from Iowa, Minnesota, North Dakota, South Dakota, Wisconsin, and Canada.
"Moments leading up to the build were most stressful," said Corona Kenowski, civil engineering senior and one of four students who built the bridge in competition. "Once I started, there was a lot of running, listening to teammates, and cheering from the audience – although I'm not sure what the audience cheered." Other builders were senior Brad Young (captain), senior Cody Buelt, and junior Lucas Diemer.
Cyclone engineers built the 19.5-foot truss bridge, containing 111 pieces, without using power tools. "We used a lot of wrenches and ratchets to put the bridge together," Kenowski said. In addition, builders couldn't step into a 6-foot-wide imaginary river taped in the middle of their construction area, prompting creative problem solving. They finished in 28 minutes, 40 seconds – the third-fastest time on the floor this year. In addition to construction speed, structural efficiency, lightness, stiffness, and construction economy also were judged.
Lakehead University won the regional competition. As top-2 regional finishers, Iowa State and Lakehead advance to the ASCE/American Institute of Steel Construction National Student Steel Bridge Competition, which University of Missouri-Kansas City hosts at the Kansas City Convention Center May 22-23.
The Steel Bridge Team is a component of the ASCE Iowa State Student Chapter, which formed the Steel Bridge Cabinet to coordinate different aspects of the bridge: President Tim Schlosser (senior), Rules Chair Brad Gipple (senior), Design Chair Hannah Monical (senior), Fabrication Chair Matt Manzer (junior), and Public Relations Ben Worrell (senior).
Iowa State has competed in the national steel bridge competition nine times since 1999. Their highest finish yet was fifth place in 2013.
Also, this was the first year a regional student steel bridge competition was held outside the U.S. "The competition turned into somewhat of a study abroad trip for students," Schlosser said.
Students independently attracted many sponsors who contributed steel bridge funds and materials. Platinum-level sponsors include Bartlett & West, The Boeing Company, Central Iowa Powder Coating, EFCO, I&S Group, J&A Sales, Shuck Britson Consulting Engineers, Sukup, and Todd & Sargent. Gold-level sponsors include the American Institute of Steel Construction, CB&A, Civil Design Advantage, HDR, Johnson Machine Works, Kiewit, PVS, Shoemaker & Haaland, TKDA, and Tometich Engineering. Cardinal-level sponsors include Bolton & Menk, French-Reneker-Associates, HGM Associates, and Terracon.