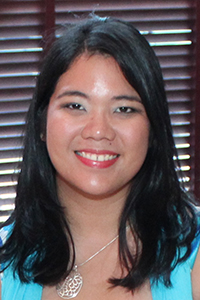 Ka Lai Ng Puga, an Iowa State University doctoral candidate in civil engineering, recently won the national David R. Jones, IV, PhD Scholarship from the Association of Modified Asphalt Producers (AMAP). AMAP presented Ng with the $2,000 award Feb. 18 at AMAP's 16th Annual Conference, held in Jacksonville, Fla.
The David R. Jones, IV, PhD Scholarship is an annual award given to graduate or undergraduate students particularly interested in and with experience in asphalt technology. By distributing the scholarship, AMAP encourages talented young engineers and chemists to pursue the challenging and rewarding work of building America's safe and efficient highways.
Ng, a Panama native, focuses her dissertation research on the modification of asphalt-rubber binders and mixes with polyoctenamer, a synthetic binder additive for asphalt pavement. Her major professor is Chris Williams, Gerald and Audrey Olson Professor in Civil Engineering. She plans to graduate in fall 2015. Following graduation, Ng intends to pursue an academic career working on research and technology transfer in collaboration with the asphalt industry.
AMAP notes that a record number of scholarship applications – 65 – were considered this year, with Ng receiving one of three total awards given – two $2,000 awards and one $1,000 award. Because of the high number of talented applicants, AMAP introduced an internship program. If you are interested in applying, visit the AMAP internship website.