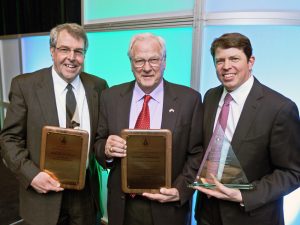 With the Grain Elevator and Processing Society (GEAPS), West Central is proud to announce Tim Sullivan has received national grain industry recognition as GEAPS' 2015 International Member of Distinction.
Sullivan, who serves as West Central's director of technical services, was instrumental in building a national distance education program for grain handling industry professionals which today, has become a renowned program through GEAPS and Kansas State University.
"Sullivan has played an instrumental role in championing GEAPS professional development programs and promoting the value of participation in GEAPS annual conference and educational series," explained GEAPS President, Matt Kerrigan at the award ceremony recently held in St. Louis. "He has built his career and reputation on the pursuit of excellence and reliability in grain operations."
"For West Central's employees and stockholders, Sullivan showcases the importance of continuous improvement in grain quality management and employee safety programs," added West Central's President and CEO, Milan Kucerak.  "His leadership in promoting a behavioral-based safety culture creates a stronger cooperative for all of us."
As a 32-year member of GEAPS, Sullivan has served in numerous leadership roles at both the chapter and international levels including serving as an international board member from 2002-2005. He has also served on a joint GEAPS/National Grain and Feed Association committee addressing operational and regulatory issues with the U.S. Department of Agriculture Federal Grain Inspection Service.
Sullivan resides in Barnum, Iowa, and graduated with a degree in construction engineering in 1977.