Biological systems engineering senior recognized for outstanding achievements in academics and leadership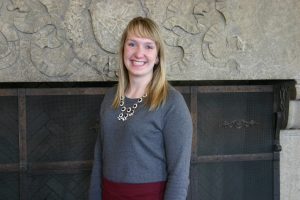 Hillary Kletscher came to Iowa State in 2011 ready to try new things. As a freshman, she was also serving as Minnesota's 2011-2012 FFA president, a commitment that required her to miss a number of classes. That didn't stop her from joining the Greek community and getting involved in other student organizations on campus.
Since then, Kletscher, a senior in biological systems engineering, has participated in the Government of the Student Body, Alpha Gamma Delta executive council, the national ASABE conference, Dance Marathon and the University Honors Program.
In each of these roles, she says she emphasizes servant leadership. "Being a leader should be about serving others, which has always been important to me. When I consider a leadership role, I think about how I can help other people and still grow personally in the role at the same time."
The Iowa State Alumni Association took note of all that Kletscher has accomplished and recently recognized her with the Wallace E Barron All-University Senior Award. Since 1968, the award has recognized outstanding seniors who display high character, outstanding achievement in academics and university/community involvement and promise to continue these exemplary qualities as alumni. Kletscher was one of five seniors to receive the honor.
Kletscher attributes her involvement at Iowa State to receiving the award, "You can't just work on something for a year and win the award. It's really about how you've spent your entire time at Iowa State. We all try to work hard and make a difference, and it's great that the Alumni Association took notice."
While she knew she'd get outside her comfort zone once she came to Iowa State, she never anticipated she'd find such a lasting role with Iowa State's Government of the Student Body. Though she was not active in student government in high school, Kletscher decided to run for the College of Engineering senator position during her freshman year. Her leadership in the organization has evolved to vice president, and most recently, president of the student body.
Kletscher is also concurrently enrolled in the MBA program and will continue with these studies until graduation in May 2016. Her ultimate professional goal is to be active in strategic planning, business development and team management. This summer, she'll be getting more hands-on engineering experience as an intern at Cargill in Dayton, Ohio, a corn-milling facility. Kletscher has also interned at U.S. Water Services, DuPont Pioneer and Highwater Ethanol.
Through it all, Kletscher says she's grateful for the limitless opportunities Iowa State has offered to her. "I can't thank Iowa State enough, including alumni, faculty and staff, for all of the doors they have opened for me. Between the short study abroad trips to internships, someone helped make that happen. I'm so thankful that Iowa State provides that kind of culture and opportunity for our students, because it has certainly changed my life."