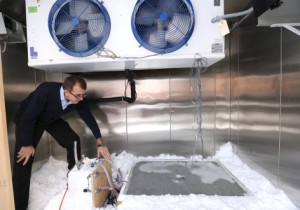 Alireza Sassani turned a switch and sent 60 volts of electricity into a small block of concrete. A few minutes later the Iowa State University doctoral student took some measurements and found the block's surface temperature had risen from 64 degrees Fahrenheit to 189 degrees.
Next, Therin Young stepped up to the demonstration table and carefully squeezed drops of green-colored water on top of another set of small concrete blocks. The drops beaded on the concrete and, with the help of a little tilting by the master's student, rolled right off the edge.
And then Halil Ceylan opened a walk-in freezer and showed off a pile of snow from one of Iowa's winter storms. Behind the snow was a 2½-foot by 3½-foot concrete slab that was wet, but drying. Some 45 minutes earlier, that slab was buried in the snow.
All three technologies – electrically conductive concrete, nanostructured superhydrophobic coatings and hydronic heated pavements – are designed to quickly, economically and sustainably clear snow and ice from airport runways.
"These new technologies could prevent flight delays and keep airports accessible," said Ceylan, an Iowa State associate professor of civil, construction and environmental engineering and director of the Program for Sustainable Pavement Engineering and Research at Iowa State's Institute for Transportation.
"This provides a safe working platform for airport personnel and passengers," he said. "And it's environmentally friendly – airports don't have to use tons of de-icing salts. This also translates into reduced emissions and costs because airports don't have to treat the wastewater associated with de-icing of airport pavements, which is otherwise mandatory."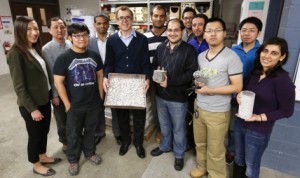 The pavement research is part of the Federal Aviation Administration's Center of Excellence Partnership to Enhance General Aviation Safety, Accessibility and Sustainability, or PEGASAS. The partnership was established in 2012 and is led by researchers at Purdue University. Other core members of the partnership are Iowa State, The Ohio State University, Georgia Institute of Technology, Florida Institute of Technology and Texas A&M University.
The FAA's centers of excellence establish cost-sharing research partnerships with the federal government, universities and industry. PEGASAS researchers are studying a variety of general aviation issues including airport technology, flight safety and adverse weather operations.
The program is providing about $750,000 for Iowa State's studies of snow- and ice-free runway pavements. The university is matching those funds.
Ceylan has assembled a team of 19 faculty, staff and students to develop the pavement technologies and analyze their costs and benefits. He said Iowa State, as home of the National Concrete Pavement Technology Center, is the perfect place to research and develop new ways to keep runways clear of snow and ice.
And so back in the Town Engineering Building's pavements lab:
Researchers have been adding various mixes of electrically conductive carbon fibers and powders into pavement materials. Put an electrical charge through the resulting pavements and they're quickly hot enough to melt snow and ice. The researchers are looking for just the right mix of pavement conductivity, workability, durability, economics and safety.
Researchers have been spraying various nanomaterials (including PTFE, DuPont's Teflon®) onto pavement test samples. The idea is to produce pavements that repel water. That would prevent snow and ice from sticking and make it easier for plows to clean up after a storm. "This would be like a lotus leaf," Ceylan said. "The water doesn't stick to the surface."
Researchers have been pouring concrete around copper pipes to create test slabs for hydronic systems. The systems circulate heated liquid through the pipes, warming the pavement and melting any snow and ice from the surface. Ceylan said one of the biggest challenges with the heated pavement technology is developing the advanced construction techniques to build large, reliable and economical systems.
So far, Ceylan said studies of all three technologies are moving ahead, showing promise and looking feasible. But larger-scale, outdoor tests are still needed. He's hoping to install outdoor test panels – perhaps on campus – within the next year or so.
And while several major airports have expressed interest in testing the snow- and ice-clearing technologies, Ceylan said the real target is small, general aviation airports.
"General aviation airports don't have the personnel and the equipment that the big airports have," he said. "And so sometimes in the winter they just shut down. General aviation airports aren't just concerned about cutting snow-removal costs, it's a matter of keeping the airports open."
This story was originally published by the Iowa State News Service.