Students are introduced to engineering majors through hands-on experience and interaction with Cyclone Engineers
Often times, middle school students are aware of engineering as a field, but they might not know about the more specific engineering disciplines available for them to study. Iowa State's student chapter of the National Society of Black Engineers (NSBE) recently partnered with the Ames Middle School to give students more experience with all the engineering programs available at the university.
The group holds monthly programs that use hands-on experiences to pinpoint  students' skillsets and strengths while also providing them with a general understanding of engineering.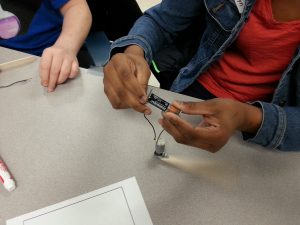 For example, in the month of February the group focused on mechanical engineering. Students walked through the engineering design process of building a mini-soccer ball kicker and built simple circuits using batteries, motors and gears. They also participated in team building games that demonstrated Ohm's Law (V=IR), a basic premise in engineering that emphasizes the relationship between electrical flow, voltage and resistance.
Kendra Allen, precollege initiative chair for NSBE and program coordinator, believes other benefits will come from the program, including reaching out to students of color. "Ames Middle School was really excited about having us in the school, and there was a sense of pride for students of color, because they could identify with us," she commented. Studies have shown that if students see people who look like them in a certain discipline, the student is more likely to aspire to be in that field.
She also believes Iowa State will benefit from the program through showing off the many great students and majors at the university.
Allen says that many people helped make the program a success, including the Ames Middle School and especially Anthony Jones, who is the vice principal at Ames Middle School. She adds that Iowa State and the College of Engineering authorized the event and provided a lot of support, along with LeQuetia Ancar, NSBE advisor and engineering student services program coordinator, and Joel Johnson, director of engineering student services.
The program will continue through May, and Allen looks forward to getting more volunteers in the fall to reach out to even more students.