Extension specialists are trained to be able to communicate technical information to a wide range of audiences. They act as bridges between research and application, so it was no surprise that Jay Harmon, agricultural and biosystems engineering (ABE) professor, brought those skills to the construction of the Biorenewables Complex.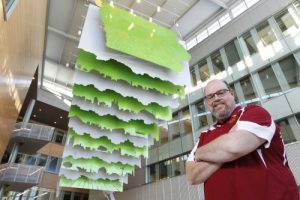 Harmon's combination of expertise, communication skills and humor ensured a smooth transition for the Department of Agricultural and Biosystems Engineering in its move from Davidson Hall to a new home in Elings Hall and Sukup Hall. The buildings were dedicated in September 2014, and have been humming with activity in classrooms and labs.
Before coming to Iowa State University in 1993 as a swine production specialist, Harmon held an extension appointment at Clemson University. His experience with farm structures, technical details and people helped prepare him for the Biorenewables Complex construction effort.
"When Hurricane Hugo hit the South, I went out and evaluated the damage caused to farm structures. I published a paper on hurricane damage, the first of its kind published by ASABE (an agricultural engineering professional organization). But it was hard to see the damage. People lost a lot. I often felt like I needed a counseling degree while I was driving around, talking with people," says Harmon.
Harmon wears many hats
Apart from his duties as a faculty member and extension specialist in ABE, Harmon also oversees Midwest Plan Service, and serves as interim director of the Iowa Pork Industry Center. In 2005, ABE was part of a feasibility study evaluating what might be needed if the department would be granted a new building. The department chair at the time, Ramesh Kanwar, asked that Harmon be involved due to his expertise in building planning. Although never given an official title, his involvement in the project evolved into a faculty liaison position.
"When I stepped into this facilitator role, the department was asked about what we wanted in a new building. What, in our wildest dreams, would we ask for? So I went around and talked to everyone in the department to figure out their needs. Teaching, extension, research — I collected everyone's wishes. We weren't just recreating Davidson Hall, we wanted to create something cutting edge. We wanted a building that was flexible and would still be relevant to our field many years down the road," he says.
To ensure the entire department fit together correctly, Harmon describes the process of assigning lab and office space like solving a puzzle. Previously, the department had been scattered between four different buildings.
"We had to make sure there was a fair balance of lab space, and that the right labs were positioned next to one another. For example, it's probably not a good idea to house the manure lab right next to the odor lab," he jokes.
Harmon's brand of humor and appreciation brought an added dimension to the success of the building construction.
"I wanted the construction workers to know how much we appreciated their efforts, so I encouraged our student groups to host grill outs for the workers. We also had a dessert reception for the construction managers and architects. I feel that little gestures of appreciation go a long way on a complicated project like this," Harmon says.
He also helped select the bright, blue punch served at the dessert reception. "The blue was the exact same color as the reclaimed water in our new toilets. Serving that punch was my idea," he says with a grin.
Job was worth the stress
While balancing so many spinning plates, Harmon admits that the job wasn't always stress-free, but that the end result was worth it.
"My favorite place in the whole building is the kitchenette on the fourth floor. On mornings when I got up extra early, thinking and worrying about everything that needed to get done, I'd go in there, make coffee and watch the sun rise. I feel a great deal of ownership and pride in our new buildings. I talk to faculty, and they all say the same thing. Somehow, it's given us a new lease on our positions, and reinvigorated us to achieve in our field. I'm also really proud of the art in our atrium. Every time I see people in the atrium who have come simply to check out the piece, I feel proud," Harmon says.
Now that the majority of the work has wrapped up on the Biorenewables Complex, Harmon and Steve Mickelson, ABE department chair, have offered their expertise and perspective to the faculty preparing for the construction of the new Biosciences Building.
"This project wasn't just one job, but a series of many little jobs, and I had fun being in the middle of it all," Harmon says.
To read the original CALS story, click here.