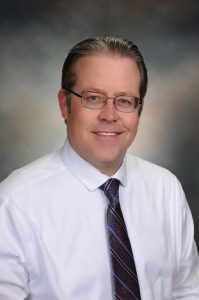 Jeff Eckhoff is communications manager for the Center for Industrial Research and Service. He spent 21 years as a newspaper journalist at the Columbia (Mo.) Daily Tribune, Philadelphia Inquirer and the Des Moines Register before joining CIRAS at the end of 2013. In this guest blog post, he talks about the economic value CIRAS provides to the state of Iowa by helping make local businesses better.
The first time I heard about Iowa State University's Center for Industrial Research and Service was after I sought wisdom regarding bleak manufacturing news and the lousy Christmas shopping season of 2008.
I was a reporter at The Des Moines Register at the time, newly reassigned from murders and government meetings to covering shopping and industry for the business staff. I forget my exact questions, but an ISU economist used numbers from a CIRAS report to explain the then-rotten state of Iowa's economy. Then, he spent about an equal amount of time trying to explain to me what a "CIRAS" was.
Six years later, I'm now the guy in charge of answering the "So, what is CIRAS?" questions. I try to boil it down to its core: CIRAS makes businesses better. In many different ways. And so the changes will stick.
The numbers speak for themselves: In 2013 alone, CIRAS and its partners helped 1,280 businesses in 94 Iowa counties. Clients surveyed later estimated that 6,795 jobs had been added or retained because of work that had an estimated economic impact of $446 million – that's $383 million in new or retained sales, $50 million in new investment, and $13 million in saved or avoided costs.
Add up the last four years, and the estimated economic impact totals $1.6 billion.
Created in 1963 as an extension arm of the College of Engineering, CIRAS has always been focused on maximizing the impact of university expertise. Today, the center uses its vast network of experts to provide everything from management and technical expertise for manufacturers to help for Main Street businesses seeking to navigate the byzantine world of government contracting. CIRAS' work is varied and diverse, and its impact can be felt around the state.
To detail just two examples:
North Iowa Vocational Center
North Iowa Vocational Center, a nonprofit job training agency for the physically and mentally disabled in Mason City, sought CIRAS' help in replacing a money-losing can- and bottle-recycling business. NIVIC Services Inc. provided training to 456 disabled Iowans last year, but much of that work came under seasonal contracts subject to the business cycles of other companies.
CIRAS led NIVC though a detailed Innovation Cycle discussion centered around the best way to take advantage of NIVC's experience in working with wood. (One of the jobs available for NIVC clients is in a pallet-production operation.) Last fall, NIVC launched a line of $96 wooden cremation urns – a launch that was featured prominently on KCCI-TV in Des Moines. The hope is that the urns will meet a growing need for inexpensive funeral options for indigent Iowa veterans, as well as give NIVC a way to keep clients working in periods of lower demand.
Ryko Solutions
Ryko Solutions, a Grimes company that makes car washes, turned to CIRAS for help designing a plastic funnel for use in refilling cleaning chemicals. CIRAS helped the company find a newer, quicker way to make the funnel, which will be more appealing to car wash owners because it means lifting containers that are half the size of what's currently out there.
Ryko took the funnels to market in October and expects to sell $2 million of them in 2015. The company also will spend $1 million to upgrade its customers' dispensing equipment and to acquire manufacturing equipment for injection mold tooling and automation. Most of that money will be spent at two other Iowa-based companies.
CIRAS has many similar projects in the pipeline for 2015. We'll continue offering advice on how companies should cope with a looming worker shortage. We'll be working with machinery manufacturers and others who want to make their businesses more innovative, and we hope to advise multiple Iowa companies on how to boost their productivity through automation.
In short, there's a lot going on at CIRAS.
We expect to have many more good stories to tell.