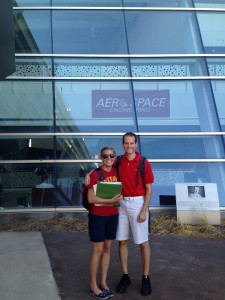 A celebration of life memorial was held for aerospace engineering alum Paul Troupe on Monday, December 8 in the Howe Hall Atrium. Nearly one hundred people attended including Troupe's friends, family, Phi Kappa Psi fraternity brothers, Boeing co-workers, and aerospace peers. Paul passed away on November 19 in a tragic car accident in Phoenix, Arizona.
Friends, faculty, and co-workers remembered Paul as a goofy, kind-hearted, and dedicated friend, student, and worker- a prime example of an Iowa State student and alum.
Paul graduated from Skutt Catholic High School in May of 2010, excelling in academics and athletics. He graduated Magna Cum Laude from Iowa State University with a degree in aerospace engineering in the spring of 2014. He was a member of the Cardinal Key Society, Sigma Gamma Tau Aerospace Society, Tau Beta Pi Engineering Society, Phi Kappa Psi fraternity, AirISU (in which he built an airplane), Salt Company college ministry, and numerous other clubs and organizations. Paul and his wife Sarah met at Iowa State where, in May of 2014, Sarah also graduated Summa Cum Laude with a degree in aerospace engineering. They were married on May 24, two weeks after graduation, and enjoyed a three-week honeymoon traveling throughout Europe.
Paul began his career with Boeing in St. Louis, MO working in the Research & Technology Division performing aeromechanics and aerodynamics analysis and testing. Paul was an avid sports fan and dearly loved the Nebraska Cornhuskers, Denver Broncos, Chicago White Sox, San Antonio Spurs and F.C. Bayern futbol. He and Sarah enjoyed cheering together for their alma mater, the ISU Cyclones. He was a friend to all and always saw the good in each person. Paul served everyone he met with compassion and love. He was a source of light, happiness, and random sports, car, and trivia facts in the lives of those who knew him.
A scholarship has been created for aerospace engineering students in Troupe's name. The Iowa State University Foundation is assisting with the Paul Troupe Scholarship Memorial. Gifts can be made payable to the ISU Foundation, with a note for the 'Paul Troupe Scholarship.' Address is 2505 University Blvd, Ames, IA  50010. Gifts can also be made via credit card, and donors can either do this online or by calling Karla Beck at the ISU Foundation.