Written by Robert Mills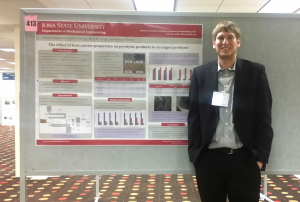 A poster by Tannon Daugaard, a Ph.D. student in mechanical engineering at Iowa State University, won first place in a competition held at the 2014 Annual Meeting of the American Institute of Chemical Engineers in November in Atlanta. Daugaard, who hopes to graduate in 2016, won in a poster session called "Sustainability and Sustainable Biorefineries," topping some 35 other posters.
Daugaard's poster was entitled "The effect of heat carrier properties on pyrolysis products in an auger pyrolyzer." Coauthors were Dustin Dalluge, an Iowa State graduate; Mark Mba Wright, an assistant professor of mechanical engineering; and Robert Brown, BEI director and a professor in mechanical engineering. The project was supported by the Phillips 66 Company.
"I really think my enthusiasm for my research and the biorenewable research we all do at Iowa State was the main factor in winning the competition," Daugaard said. "I believe I was able to convey my enthusiasm and a broad knowledge of biorenewable research to the judges."
Examining Auger Pyrolyzers
Wright, Daugaard's major professor, said Daugaard was judged among several students based on the quality of his research and his ability to communicate it in a clear manner. "The judges expect the application of chemical engineering principles to solve sustainable engineering challenges," Wright said. "Tannon's award demonstrates that his background in Mechanical Engineering and Biorenewable Resources and Technology helps him standout among colleagues in sustainable engineering. "
Daugaard said that auger pyrolysis reactors have been gaining interest as an alternative to the more commonly used fluidized bed pyrolyzers. "Because of this growing interest, we wanted to look at how different types of heat carriers, such as sand and stainless steel shot, would affect the distribution of the products from pyrolysis," Daugaard said. "The heat carrier is the main source of heat transfer within the auger pyrolyzer, and not much research has been done to look at their effects in the current set-up."
This article was originally published by the Bioeconomy Institute.