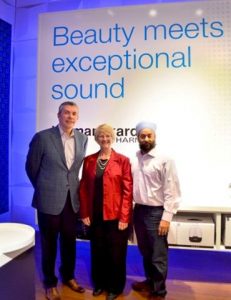 Written by Joanna Pisani, Global Manager, Internal Communications, HARMAN
Innovation was the theme of the evening at the HARMAN / Iowa State University event that took place November 6 at the NYC Flagship location. Hosted by EVP & President of Automotive Services David Slump and Iowa State University College of Engineering Dean Sarah Rajala, the event was aimed at raising awareness of the need for engineering talent in virtually every business in the coming years. ISU Alumni and friends of HARMAN mingled and exchanged thoughts on how disruptive technologies are driving a new demand for interdisciplinary approaches to innovation.
Before guest speaker Narinder Singh, President of the TopCoder community and Co-Founder / Chief Strategy Officer at Appirio took the floor, David (BSEE'91) spoke about HARMAN's passion for innovation and how it's integrated in everything we do. And Sarah was eager to talk about the real world experience engineering students receive and how the concept "Make to Innovate" encourages them to be more creative in finding solutions that are helping to change the world.
Continuing on the theme, Narinder captivated guests when he presented on the different types of innovation. And who better to present than Narinder who brings 15+ years of software and business experience and plays a key role in overseeing TopCoder, the world's largest Crowdsourcing Development, Design and Data Science platform, that gathers the world's experts to work on interesting and challenging problems for fun and reward.
From how 3D printing is giving people mobility and expressing who they are to wearable technology revolutionizing how we live our lives, the world is becoming programmable and data creation is exponentially increasing. Narinder highlighted the importance of innovation across all industries. Think Borders v. Amazon.com, taxi cab v. Uber – technology excellence is truly setting companies apart.