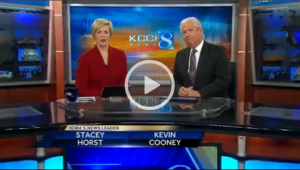 This past Veteran's Day, Iowa State's Center for Industrial Research and Service (CIRAS) and the North Iowa Vocational Center (NIVC) teamed up on a project that turns lumber into beautiful wooden urns for Iowa's fallen veterans.
Vietnam vet Dave Crowe started the project at NIVC, where he found his calling teaching people with disabilities the art of woodworking.
Impressed by their work, Crowe wanted to give these trainees a chance at a great job, so he started working with Iowa State engineers on a new business.
Paul Gormley, a field specialist with CIRAS and ISU's engineers figured that if they could sell the urns for $96, they could kick-start the new business. But just before the design got approved last May, Crowe was on his way home on a motorcycle when tragedy struck.
"She rear-ended him going 70 miles an hour, and he was killed instantly," said his wife Nancy.
Instead of dropping Crowe's project, his friends green-lighted it and gave their first urn to Crowe's widow. Going forward, they want to be sure all Iowa veterans have the chance to go to their final resting place in a meaningful way.
CIRAS and NIVC recently unveiled a website so Iowans can order an urn, whether they're a veteran or not, at urnsnorthiowa.com.
This story was first covered by KCCI News Channel 8.