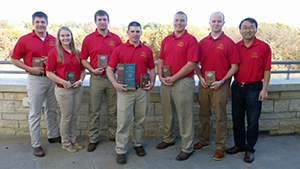 Two teams of Iowa State University construction engineering students placed first in the 22nd Annual Associated Schools of Construction (ASC) Region IV Student Competition, held Oct. 23-25, 2014, in Nebraska City, Neb.
Six-person teams had 18 hours to develop comprehensive proposals for a mock request for proposals (RFP). Teams then gave a 20-minute presentation to a panel of industry judges. The competition was divided into four divisions – commercial, design-build, heavy-highway, and residential – representing real-world engineering challenges in construction industries. Iowa State won the heavy-highway and residential divisions. The commercial team and design-build team placed second in those divisions. Thirty teams representing 14 universities from Iowa, Kansas, Minnesota, Missouri, Nebraska, North Dakota, and South Dakota competed.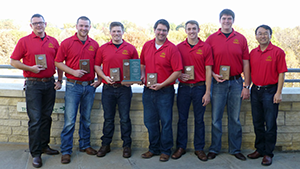 Iowa State has placed first in the ASC Region IV competition 39 times since 1994, and it has been at least a runner-up in 49 of 56 ASC competition divisions it has entered.
The residential division's mock RFP was for Trend Homes, a residential contractor who wants to develop a division in Lincoln, Neb. Students were tasked to develop a feasibility study for a 30-acre, 69-lot residential development. Members of this team were senior Eric Johnson (captain), sophomore Lauren Bennett, junior Dylan Busby, junior Daniel Carlson, junior Tom Devereaux, and senior Kyle Streicher. The residential team has won seven of the last nine years.
"The biggest challenge was financial analysis, where we compared costs to revenues and applied principles of time value of money to determine how much our investors would make," Johnson said. "Our evaluation of multiple financial scenarios and top-notch presentation skills gave us the edge."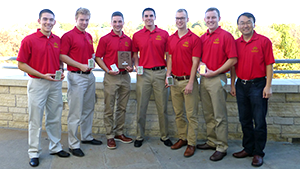 The heavy-highway division's mock RFP was for a federal or state department of transportation bridge project. Students were tasked to develop modifications to an existing bridge, while providing a case that their company would yield higher profit margins than competing firms. Iowa State students chose to bid for a project pertaining to bridge rehabilitation over a working dam. Members of the winning team were junior Matthew Decker (captain), senior Brady Carter, junior Blake Gethmann, sophomore Cameron Mehls, senior John Meyer, and senior Andy Reynolds. Iowa State has won the heavy-highway division five times since 1994.
"Our greatest challenge was figuring out how to remove and replace the existing (bridge) deck and structure while keeping the dam operable," Decker said.
The design-build team responded to a mock RFP for a 30,000-square-foot Department of Motor Vehicles Field Office. Students were tasked to determine best design-build applications for the proposed field office, including LEED standards and analysis of life cycle costs, sustainability and other codes and regulations. Members of the second-place team were senior Eli Hemesath (captain), senior Mackenzie Alberts, junior Carson Bruess, junior Haylee Hansen, architecture senior Heather Hansen, and senior Chad Tenold. The design-build team has won 14 of the last 17 years.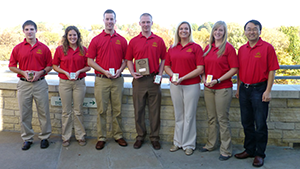 The commercial team responded to a mock RFP for a seven-floor building, urban-based project. Students were tasked to develop a budget, construction schedule, phasing and logistics plan, optimization of Building Information Modeling, standards to meet a LEED Silver Certification, and other organizational plans. Iowa State team members were senior Alex Gross (captain), senior Ryan Emerson, junior Jacob Lane, junior Nick Mendez, junior Rick Smith, and junior Josh Tuggle. The commercial division team has won 12 of the last 15 years.
Senior Lecturer Jenny Baker, Senior Lecturer Brad Perkins, and Larry Cormicle (BSConE'78, MSCE'10), senior lecturer, Glenn H. DeStigter Scholar in Construction Engineering, and Weitz Faculty Fellow, coached student teams prior to the competition. Associate Professor David Jeong accompanied teams on the trip.