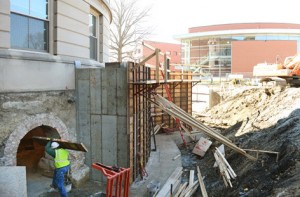 Written by Anne Krapfl.
All of the furniture is removed and asbestos abatement is complete in Marston Hall, which closed in early August for an 18-month renovation. Crews have removed old mechanical systems from the basement, which exists only under the west rotunda, and currently are pouring concrete walls and tunnels on the west side that will protect new underground utility infrastructure.
Last month, the state Board of Regents approved a larger budget for the project — $27.1 million – in light of the state's competitive construction market and higher-than-expected bids. In fact, second bids on the interior demolition component are due Nov. 13, with that work expected to begin Dec. 1 and continue through July 2015. Project manager Kerry Dixon, facilities planning and management, estimates a May 2016 move-in for College of Engineering tenants.
Marston Hall was completed in 1903. The renovation, which includes all 60,000 square feet of the building, creates classrooms and student services, visitor and student spaces on the first two floors, and moves the college's administrative units to the top two floors. The project is being paid for by university and college funds (about two-thirds) and private gifts (about one-third).
Photo by Amy Vinchattle. 
This story was originally published here.