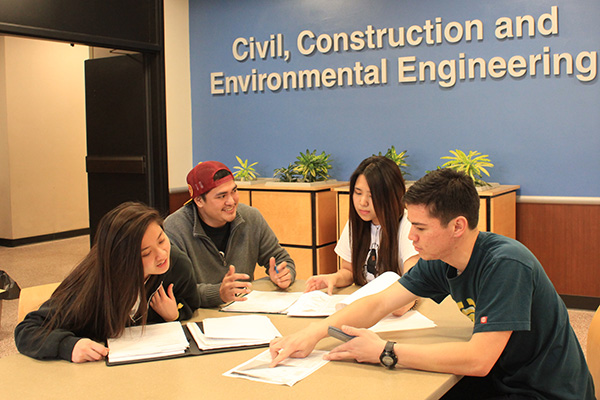 Iowa State University not only attracts students from all over the country, but all over the world. With growing programs and opportunities, Iowa State is the top choice for prospective students—especially those interested in civil engineering.
Among those who chose Iowa State as their college, six are from Guam. Of those six, five study civil engineering.
Civil engineering is one of the most commonly studied engineering programs of students from Guam because there are ample civil engineering job opportunities in Guam. Because of increasing military personnel in Guam, new civil engineers are needed to expand infrastructure there. Civil engineering senior Toby Cruz opened up about the job opportunities available in Guam for civil engineers by saying, "Civil engineering offers a variety of sub-disciplines which allows students to explore different work and job opportunities under one umbrella."
Civil engineering junior Tim Chargualaf said that students who move from Guam to the U.S. for college typically go to the west coast because Guam-native families have established businesses there. Instead of going where most of their classmates went for college, the five Iowa State civil engineering students said they chose Iowa State because of its high ratings and more specifically, the Department of Civil, Construction and Environmental Engineering (CCEE). Chargualaf said that while he was looking into schools, Iowa State continued to come up for low tuition, low crime rates, and the university's civil engineering program. The more he researched, the more appealing it became. Once Chargualaf arrived at Iowa State, he was very pleased with the college and the opportunities that were available. "The facilities are great," Chargualaf said. "We're getting a really good education here, and you can tell."
Civil engineering master's student Grace Mercado spent a lot of time early in her college career not knowing what she wanted to study. She went from architecture, to accounting, and finally landed on civil engineering. Her father inspired her to pursue civil engineering, which she learned to love the more she did it. Mercado said that she is glad she picked Iowa State because of the community and all of the nice people she has met. However, she still isn't quite used to the cold and snow. "I try to tell myself it's all in my head," Mercado said. "But it's scary when my fingers turn purple."
Civil engineering junior Rose Manuel said that despite being scared to move so far from Guam, she was encouraged to come to Iowa State because of all the great reviews she read online about the civil engineering program. Manuel said her favorite thing about the civil engineering program is the faculty. "My professors are very helpful. Whenever I have just one question, they always make time for me and they respond very quickly," Manuel said. She went on to mention how she sees her future: "I'm really thinking I would want to stay in Iowa. I want to work here because the people are so nice."
Communications hourly Kati Smith contributed to this story.