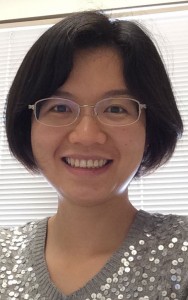 Shan Hu left her home country and flew across the world in pursuit of higher education. Her journey has landed her in Iowa where she hopes to share her expertise and experiences with students at Iowa State University.
Hu grew up watching her father, who was a carpenter, make furniture and other products that were sold in her hometown in Longsheng, Guangxi, China. She says his work later inspired her to pursue a career in engineering.
"When I was little, I liked to make, break and fix stuff. I too wanted to be able to make things just like my father," she said.
She held this interest all the way through high school, where she decided to go to college and become an engineer. At the time, she "thought engineering was the discipline that teaches you how to build stuff."
Hu enrolled at Harbin Institute of Technology for a Bachelor of Engineering in measurement and control technology. This degree contains elements from electrical engineering, mechanical engineering, optical engineering and controls engineering.
At first, she thought of higher education as merely a way to get to the middle class, but after a few years in college, she realized it encompasses much more.
"Higher education gives me access to advanced knowledge that shapes me personally and professionally in a good way," she said.
Hu received her bachelor's in 2007 and immediately started looking into graduate programs for a master's degree. She had heard about the education system in the U.S. and decided to move abroad for her studies.
"Students in the U.S. generally have more flexibility and freedom in deciding how they want to pursue their graduate degree," she said. "So I said, 'Why not? Let me get a flavor of a different educational system outside of China.' "
Seizing opportunities in the U.S.
Hu found a grad school application listed by Xun Yu, who was an assistant professor of mechanical engineering at University of Minnesota-Duluth. After a talk over the phone, she learned that he let his grad students decide how they wanted to conduct their graduate research projects, just what she was looking for.
She moved to the states in 2007 and joined a project that used non-invasive methods to study heart rate variability in individuals driving vehicles to determine fatigue levels. If a driver reached a certain fatigue level, an automated computer program would caution them to pull over and rest before continuing.
"This would be especially useful for truck drivers who travel long distances across the country," she says.
After receiving her master's in engineering management in 2009, Shan Hu began considering a Ph.D. And her advisor knew the perfect place for her to go next – the University of Minnesota.
Aware of her background and skillsets, Yu referred her to Rajesh Rajamani, who is a professor of mechanical engineering at Minnesota. Rajamani needed a grad student to help him conduct a National Science Foundation project to design new methods to control the noise levels using active elements.
And Hu's background and skillsets fit the bill perfectly. Rajamani also gave his grad students substantial freedom in terms of executing their projects, which influenced her decision to study at Minnesota for her doctorate in mechanical engineering.
For her Ph.D. project, she helped design a standalone system that could be used to play music and negate outside noise sources at the same time.
She says it's like placing a transparent speaker on your window. "If you don't like the music that's being played outside or if you live in a loud neighborhood, you can play your own music and/or reduce the noise."
After receiving her Ph.D. in 2014, she interviewed at several universities in the U.S. and found she liked Iowa State because the environment and the culture feel very familiar. "It feels like home," she said.
Teaching in higher education at Iowa State
Now at ISU, Hu is settling into her position as assistant professor of mechanical engineering. She's setting up her lab space and preparing curriculum for ME 370 Instrumentation, a class she'll teach in the spring of 2015.
"I'm very excited about this class because it covers many topics from my undergraduate studies in China but in a more condensed, one-semester course," she said.
"Overall, higher education is very rewarding for me and I want my students at Iowa State to have the same, if not better, experience. That is one of my goals as an assistant professor."