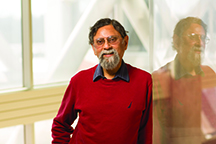 Vikram Dalal, Thomas Whitney Professor of electrical and computer engineering and director of the Microelectronics Research Center (MRC) was named an Anson Marston Distinguished Professor by Iowa State Senior Vice President and Provost Jonathan Wickert in a ceremony on Sept. 22.
Dalal, who has directed the MRC since 1999, has been working in the solar energy research field for four decades. He is a Fellow of the IEEE, the APS, and the AAAS and served as Associate Chair of the Department of Electrical and Computer Engineering from 2006-10.
"It is an honor to be recognized for many years of work in the field of solar energy research," said Dalal. "Solar energy technology is very important for people in developing countries who lack grid-connected electricity and I am very happy to be working in that exciting field."
Dalal has extensive experience in both industry and academia. After earning a PhD in electrical engineering from Princeton in 1969, he served as a research scientist at Princeton and as the manager of the device group at the University of Delaware's Institute of Energy Conversion. Dalal spent eight years in industry prior to his 1988 appointment at Iowa State, including a three-year term (1981-83) as Vice President of Research and Development at Chronar Corporation.
"I was at a stage in my life where I felt that, with my industrial research experience, I would be able to contribute both to the education and research training of young people in important technological fields, and to continue important research on solar energy materials," Dalal said. "Iowa State offered an excellent opportunity to pursue that dream."
Dalal has graduated 28 PhD students, and holds 11 U.S. patents.
The Distinguished Professorship within the College of Engineering is named for Anson Marston, the first Dean of Engineering at Iowa State and namesake of Marston Hall, the Marston Medal, and the Marston Water Tower.