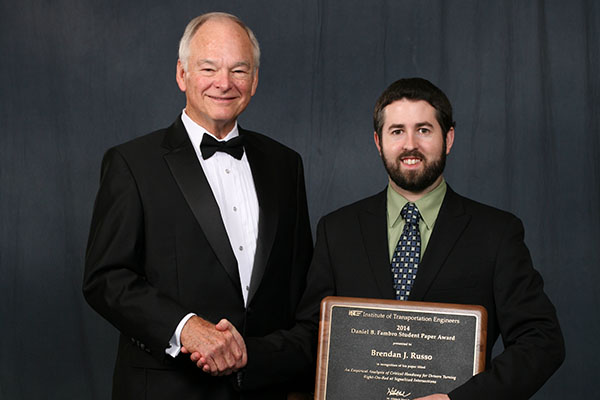 Brendan Russo, an Iowa State University transportation engineering doctoral student, was recently awarded the Daniel B. Fambro Student Paper Award by the Institute of Transportation Engineers (ITE). Russo was recognized for his paper, titled "An Empirical Analysis of Critical Headway for Drivers Turning Right-On-Red at Signalized Intersections," at the ITE Annual Meeting and Exhibit, held in Seattle, Wash., in August 2014.
In his paper, Russo studied the behaviors of drivers at intersections who turned right on red. He also examined whether their behavior differed from those who turned right at a two-way stop intersection. The paper took Russo three months to complete, which included collecting and analyzing his own data. In a press release, ITE described Russo's paper as "very relevant and interesting, and the worthwhile results should be shared with larger traffic operations communities."
To be eligible to receive this prestigious award, ITE student members wrote a 5,000-word research paper that addressed a transportation engineering problem. Students were required to conduct and report on their own independent research and investigation.
Russo earned his bachelor's degree in civil engineering from Wayne State University in 2009 and his master's degree in civil engineering from Wayne State University in 2012 with an emphasis in transportation engineering. At Iowa State he is a graduate teaching assistant in the Department of Civil, Construction and Environmental Engineering. His research interests are traffic safety and operations, under the direction of Associate Professor Peter Savolainen.
ITE is an international association of transportation professionals and gives the Daniel B. Fambro Student Paper Award out once a year. The award was named after Daniel B. Fambro, who was a professor at Texas A&M University and an associate research engineer at the Texas Transportation Institute. Fambro passed away in September 1999 at the age of 48.
Communications Hourly Kati Smith contributed to this story.