Loren Forman, '34 ChemE, becomes expert in lignin science
Loren Forman's choice to come to Iowa State College in 1930 was an easy one, especially after both parents graduated from the university in the years before. His father also taught agronomy at Iowa State until retirement.
What he didn't know was that he would become renowned in the paper chemistry field.
Upon graduating in 1934, Forman knew he wanted to pursue higher education, and that goal took him to the Institute of Paper Chemistry in Appleton, Wisconsin. While there, he became an expert in the study of lignin, a substance that holds cellulose fibers together.
During a summer internship at Munising Paper Company, he redefined how to make a better quality paper pulp through creating a hydraulic action process that separated everything from the cellulose. He received his master's in 1936.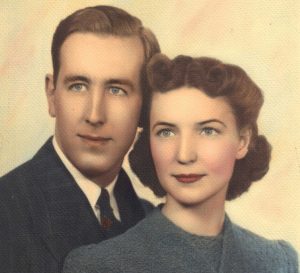 Three years later, he married college sweetheart Miriam Baily Richardson. Soon after, they traveled to Sweden for Forman to study papermaking on a scholarship from the Swedish-American Foundation. He received his Ph.D. from the Institute of Paper Chemistry in 1940.
One of the most exciting times of Forman's life was during World War II. Westbrook Steele, president of the Institute of Paper Chemistry, urged Forman to take a leave of absence for a secret wartime government contract that needed his special skills. Although his cover job description was "research associate-group leader in charge of pulp and paper technology," he was creating paper technologies to manufacture Japanese occupation currency for resistance fighters and spies in the Philippines.
After the war was over, Forman transitioned back to civilian life by working at the Scott Paper Company in 1950. He climbed the ranks quickly, and by 1957, he was managing the entire west coast operations of the company. In 1977, he retired as vice president of the company.
Forman was awarded the College of Engineering Professional Achievement Citation in Engineering award in 1970. He also served as member of the United States Chamber of Commerce Board of Directors and as a founding trustee to the Delaware County Community College in Pennsylvania, which now serves 28,000 students.
Miriam and Loren had four children together – George Lee, Richard Loren, Phillip Robert and Lori Martha.
Are you interested in learning more about Loren Forman's life? You can read more in Richard Loren's essay Paper Tiger, which details his father's life.
Curious how Loren accomplished so much in his lifetime, Richard said, "I wrote the essay for Loren's grandchildren, so they could know more about his life based on a 100-year-old diary, started by Loren's mother and continued by Loren through his collegiate years."