Chemical and biological engineering hires tenured associate professor researching fuel cells and biorenewables
With a chemical engineer and a laser-engineering expert for parents, Wenzhen Li has been interested in research since a young age. That's why he decided to get his undergraduate degree in chemical engineering and soon after got his doctorate in physical chemistry (focused on electrocatalysis) from the Dalian Institute of Chemical Physics, Chinese Academy of Science in 2004.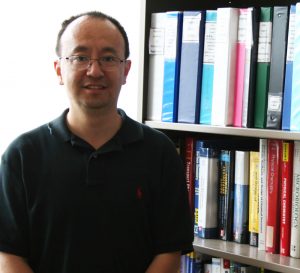 After receiving his doctorate, he completed postdoctorate research at Yamanashi University and the University of California at Riverside. He also served as research scientist at the University at Albany and assistant to associate professor at Michigan Technological University.
Despite living many different places, he adapted to the city of Ames quickly and loves the town. However, he initially came to Ames for the advanced research facilities, U.S. Department of Energy's Ames Lab and strong research performance, especially in biomass, biofuels and biorenewables.
Li's research focus is biorenewable-powered fuel cells. While traditional fuel cells use hydrogen to deliver electrical energy, Li wants to convert chemical energy in alcohols into electricity and chemicals via fuel cells.
His interest in fuel cells came after learning more about using biomass to generate electricity. He said, "I think energy is very important to our modern society, we cannot only rely on nonrenewable fossil fuels and resources."
In the future, Li said, "I want to see at least one of my discoveries from my lab in use in real-world products."
Developing technology for the real world is why Li enjoys engineering. "Engineers not only explore science, but they also apply the science to develop devices that get used every day."
In the classroom, Li likes teaching chemical reaction engineering class for undergraduates and graduates, because, "It's very close to and able to stimulate my research."
Passing on knowledge to students is also gratifying for Li. "I am happy to see students learn classic kinetics knowledge and modern tools for chemical reactions from a senior chemical engineer, to see the important knowledge pass to the next generation of chemical engineers."
Student success is another fun part of being a professor. Li mentored graduate students during his time at Michigan Technological University, where several went on to pursue postdoctoral research with the Department of Energy's national laboratories and top universities. He relishes seeing them grow up into, "first-rate, creative researchers."
Someday, Li hopes to advance his field while also serving the academic community and society, as well as professional organizations such as the Electrochemical Society or the North American Catalysis Society.