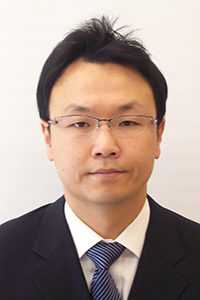 In Ho Cho, a new assistant professor of civil, construction and environmental engineering at Iowa State University, saw a future in earthquake engineering through virtual reality video games.
In particular, puzzle building games he played in high school inspired his future research, which combines structural engineering and computational science. "While playing puzzle games, I video-taped my moves over and over again and discovered patterns in my strategy," Cho, a South Korea native, said. "There I learned of parallel algorithms."
Cho uses "big data," or exceptionally high volumes of detailed information, to reproduce structural nonlinearity and complex real-scale damage phenomena in reinforced concrete structures. Through collaborative research, he hopes to develop a parallel computing engine that other researchers can use to detect microscopic structural damage in a virtual earthquake engineering laboratory – much sooner than what modern structure codes monitor. Recognizing structural decay early allows city and state engineers to repair and redesign structures resistant to earthquake damage.
"This technology is promising for our next generation," Cho said. "I look forward to promoting this kind of research at Iowa State University."
Cho combined his hard work and talents to earn a bachelor's and master's degree in civil engineering at Seoul National University, South Korea. In college he developed an interest in structural engineering, earning a civil engineering emphasis in civil, urban and geosystem engineering.
In 2007, he moved to Pasadena, Calif., to pursue a doctorate in civil engineering at the California Institute of Technology. At this point, his computational talents matched his earthquake engineering interests with a minor in computational science and engineering. After earning his doctorate, Cho accepted a Willis Research Fellowship at the University of Colorado-Boulder.
With his 2014 transition to Iowa State, Cho's research mission is strong: "I want to apply big data approaches to earthquake engineering with the goal of preventing large-scale earthquake disasters." Cho will combine research approaches in advanced computational engineering, information technology, structural analysis, and engineering seismology.
Iowa State selected Cho as part of the Presidential High Impact Hires Initiative, which brings faculty members who, in addition to teaching, conduct research that benefits Iowa's economy and provide service through Iowa State University Extension and Outreach. In particular, Cho is a "Big Data" hire, a cluster hire of 12 faculty members in five colleges at Iowa State.