Nine engineering students learn about the human-centered design process in Central America
"The opportunity was great, and I would go back in a heartbeat," said Michelle Bruns, senior in mechanical engineering, about a recent trip to Nicaragua.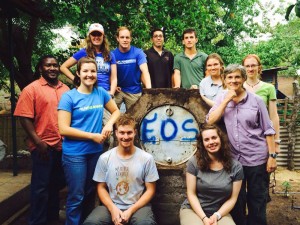 Nine students from Iowa State's mechanical engineering department, as well as Luther College's biology department, relocated to San Isidro, Nicaragua, from June 7-July 3 as part of a sophomore design course.
Gloria Starns, mechanical engineering senior lecturer, who taught the course with Mark Mba-Wright, mechanical engineering assistant professor, came up with the idea for the trip after brainstorming with two founders of Emerging Opportunities in Sustainability (EOS). EOS is an organization dedicated to providing under-served communities with access to low-cost appropriate technologies that generate income, improve health and preserve the environment.
The EOS founders, who are also mechanical engineering alumni, reached out to Starns knowing that ME 270 is dedicated to working on projects in developing countries while focusing on the voice of the customer. However, with the class being taught in Ames, students do not have direct contact with the people for whom they are developing products.
With project recommendations from EOS, the course was taught in Nicaragua, giving the students a more meaningful experience.
Designing with the customer in mind
The goal of the course was to teach students about the human-centered design process, which involves the consumer or "co-designer" throughout the design, with the engineering team working on the technicality of what the co-designer wants.
"The approach gives you a step-by-step process to develop something that users need, not something you think they need," said Lindsey Coons, senior in mechanical engineering.
Many people working in developing countries have been using human-centered design, as they realize the important information users provide in creating a product that will add value to their lives.
Three products for rural Nicaragua
Three student groups created three different products – a rainwater catch system, coffee roaster system and a biochar reactor. Before going to Nicaragua, the nine students started their studies with Starns and researched their future projects.
Coons explained why a rainwater catch system was so important, "Six months out of the year, they don't get any rain, so we wanted to make something to collect rain during the rainy season that the community could use to shower, wash dishes, cook, etc. during the dry season."
Ann McLoughlin, junior in mechanical engineering, was part of the coffee roaster group. "Our assignment was improve their roasting method without using electricity because the farmers don't have power," she said. Prior to going on the trip, her group researched coffee and interviewed a Burgie's worker. At the conclusion of the trip, the coffee farmer was able to roast 25 pounds in a few hours, compared to less than five pounds prior to receiving the ISU-designed roaster.
The final project was a biochar reactor; biochar is used to improve soil quality and bury carbon underneath the ground. The group worked to continue building a reactor that had been started the year before by two mechanical engineering graduate students. Eventually, EOS would like to have a reactor that produces enough biochar to sell to farmers.
All three groups completed their projects, and the technologies were implemented in Nicaragua before they left.
More lessons learned
Another unique aspect to the course was that the students had to understand the way business is conducted in a third world country. Because people do not always have money to pay with, bartering and exchanging services is common and needed to be incorporated into the class's projects.
The students also had to write a final report about their projects in Spanish after returning to the United States. In these reports, the groups discussed their math model and the identification process; the "fast prototype" they developed to determine an ideal product; and the changes they had to make to their design after talking with the customer.
Although Spanish-speaking skills were not required, Starns believes everyone's speaking skills improved as a result of the trip. "By the time the students left, they were all approaching fluency in terms of everyday language."
The group also experienced the culture outside of their coursework through weekend trips to different parts of Nicaragua, including a volcano surfing trip, a beach day and a trip to the rural areas of Nicaragua.
Making an impact and looking forward
As they reflected on the trip, Starns and Wright knew they made the right choice in choosing Nicaragua as a location for their course. Starns was impressed with the Nicaraguan people, "They took care of us, gave us everything that they had, embraced us into their families, trusted us with their children, and they were just really awesome."
And Wright said applying his knowledge as an engineer to somewhere that was not as privileged was a powerful experience, as the students got to see how their work could impact the second poorest country in the northern hemisphere.
Both felt partnering with EOS made the trip even better. "Their organization [EOS] really made that trip what it was. It was so well prepared and well thought out," Starns said.
The same class will be offered again next summer.
In the future, Starns hopes to involve College of Business students, which would "enable both types of students to leverage their respective training more aptly." However, she was quick to point out the effectiveness of this year's engineering group in creating a revenue model for a developing country.
Wright is also writing a National Science Foundation proposal to design a graduate-level class to expand the reach of the course.