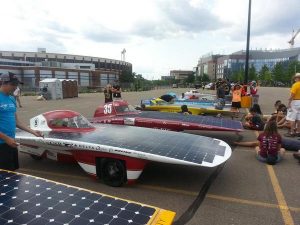 With the pedal to the metal, Iowa State's solar car Phaeton raced more than 153 miles from La Crosse to Minneapolis to arrive and place third at the finish line of the American Solar Challenge.
"We started the day with a fairly full battery pack of energy and we tried to drive fast (50 miles per hour) almost the entire time," said Logan Scott, Team PrISUm project director and a recent graduate of mechanical engineering.
The weather was fair and the team had no further encounters with local authorities, but the race was close until the end.
Rachel Hoke, the team's treasurer and a junior in electrical engineering, said they ended up taking a wrong turn at the last minute, which gave solar car team Montreal Polytechnic: Esteban an opening to pass them and arrive at the finish line in third. "They kind of snuck up behind us," Hoke said.
However, Montreal had accumulated six minutes worth of penalties throughout the day and it was later announced at the awards ceremony that Team PrISUm had officially arrived in third.
Team PrISUm also placed third overall and won the Best Mechanical Design Award for their suspension design. This is the second year in a row that Iowa State solar car team has won this award – their solar car Hyperion won it last year.
"Both cars have a similar suspension design, which is probably why we keep getting it," Scott said. The suspension system includes the springs, or the dampeners on the wheels that absorb force sustained from hitting bumps and taking turns.
Now that the race is over, the team is spending the night in Minnesota and returning to Ames tomorrow afternoon.
After unpacking, they will start designing the next solar car as well as try to improve upon issues that Phaeton encountered in Austin, Texas, during the Formula Sun Grand Prix track race.