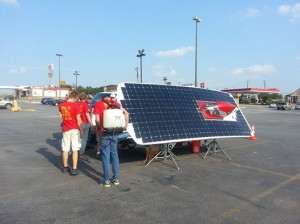 Hot, sunny weather and a problem free drive gave Iowa State's solar car Phaeton a strong head start on the first day of the cross-country American Solar Challenge (ASC).
Team PrISUm – the Iowa State students who design and build cars that run off the power of the sun – placed fourth at the ASC checkpoint in Weatherford, Texas.
They started at UT Austin in Austin, Texas, and drove about 250 miles on the first day of the cross country race.
Initially cloudy, the race had a slow start, but Rachel Hoke, the team's treasurer and a junior in electrical engineering, said Phaeton gained an advantage when the sun came out.
"It's been pretty hot, and we had minimum cloud coverage most of the day," Hoke said. "The temperature was in the high 90s, low 100s, which was good for us because we have battery packs that can withstand the heat."
Traveling at an average speed of 45-50 miles per hour, Team PrISUm arrived in Weatherford at 2:30 p.m. where they stopped to rest and briefly recharge their battery packs.
They hit the road an hour later and managed to put on a few extra miles before stopping in Decatur, Texas – only a couple hours from the race's stage stop in Norman, Oklahoma.
At Decatur, the team spent an allotted two hours recharging the car's batteries, and they'll charge it again tomorrow morning before taking off.
"We've been doing pretty good so far," Hoke said "Overall, it was a very good day to be racing solar cars."