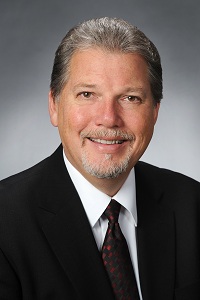 Steve Mickelson, department chair of agricultural and biosystems engineering, gives an update on the department's move into Elings and Sukup halls. 
Ask anyone who has ever been associated with the Department of Agricultural and Biosystems Engineering, and they'll all say the same thing – our new building was a long time coming.
For years, the department was housed in no less than four buildings, including Davidson Hall – a building with a rich history which included educating and employing the pioneers of our field. Davidson held many memories for the faculty, students and staff that called it home.
And now, in 2014, we are excited to open a new chapter in our residence.
The Biorenewables Complex grew out of a need for modern research and teaching facilities to accommodate our growing department. As we educate the future leaders of agricultural and biosystems engineering, we need hands-on working space to foster their creativity, research and projects.
Now that we have been gifted that precious space, we are thrilled about the possibilities it holds.
The actual move-in process was broken down into phases. In June, week by week, we packed up our offices, and found some academic buried treasure in the form of old books, class notes and departmental relics.
One tradition the department observes is something we like to call 'What's Up Wednesday', and we held our first one in Elings Hall on July 2nd. It's an informal gathering where faculty and staff chat over coffee and baked goods, and it was great to see all of us together again in one space. A feat that hasn't been possible for years.
In the coming weeks, the final art installation will be hung in the atrium, laboratory equipment will be assembled and our building's coffee shop will test out some of its products (of which we hope to be the first to sample.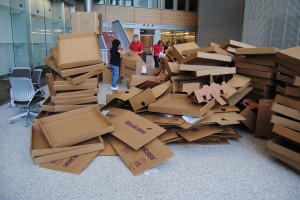 Like any move, packing up and reorganizing our lives can be stressful, but Elings Hall and Sukup Hall have been worth the wait. I think I speak for the whole department when I say we can't wait for students to come back and check out their new facilities.
I'd also like to announce our official building dedication, which will be held on Thursday, September 25th at 4:30 p.m. In addition to invited speakers, some of our students will be leading tours of the building and laboratories.
We hope you'll join us.
 More pictures of the move-in and of the department saying goodbye to Davidson Hall.