Iowa State's College of Engineering and the NSF Engineering Research Center for Biorenewable Chemicals (CBiRC) have joined forces for a Research Experiences for Teachers (RET) program that will be part of the 2014 STEM Summer Institute at ISU.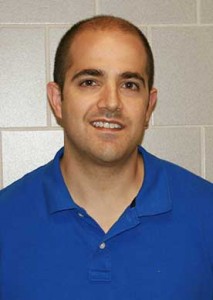 Starting on June 9, 16 Iowa State faculty members are mentoring 16 high school STEM teachers in their research labs across campus for seven weeks.
The theme of the RET program is energy and sustainability and highlights the efforts at Iowa State to develop technologies that will allow a continuation of current living standards without jeopardizing the environment. The RET program is funded by the National Science Foundation through CBiRC and the newly awarded RET-Site grant.
"One of the major goals of the RET program is to connect Iowa STEM teachers with engineering faculty at Iowa State," said Eric Cochran, the principle investigator of the RET-Site award and associate professor of chemical and biological engineering.
Adah Leshem, also one of the program's principle investigators and CBiRC's pre-college education program director, said the faculty mentors will introduce participating teachers to engineering concepts and principles as they engage in their research project.
"This is a critical move with the current implementation of the Next Generation Science Standards that require the inclusion of engineering concepts in K-12 science curricula," Leshem explained. "This experience will also help the participating teachers as they introduce those standards in their classrooms."
These faculty mentors are affiliated with a number of ISU centers and institutes, including CBiRC.
Research opportunities will include a broad spectrum of specialties within the theme of energy and sustainability – from the production of fuels, chemicals, and polymers from renewable feedstocks; to advances in photovoltaics and fuel cells; and to novel water purification systems.
In addition, the research projects may provide engineering faculty and graduate students with opportunities to bring their research into K-12 classrooms.
"A lot of times, the greatest barrier to outreach is not knowing who to talk to," Cochran said. The RET program aims to overcome this challenge by forging new connections between Iowa State faculty and Iowa STEM teachers.