Written by Carole Gieseke – Chief Communications Officer, Iowa State University Alumni Association
Photography by Jim Heemstra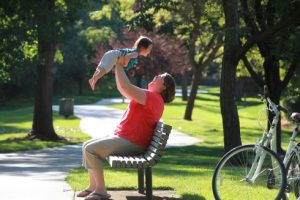 Renee Schmitt Shang ('05 computer engineering) went into her senior year at Iowa State knowing that she already had a job waiting for her when she graduated.
The job was working with image sensors at Micron, a company with which she'd interned after her junior year. She now works as a lead product engineer for Aptina, a Micron subsidiary, in Boise, Idaho, creating light-sensing imaging chips used in the cameras in many cell phones and action sports cameras as well as in the original X-box Kinect.
The Rudd, Iowa, native says she derives a great deal of satisfaction from her job.
"A lot of my job is firefighting," she says. "It's intense work, with long days of problem solving. I enjoy the adrenaline rush of working through the problems, resolving them in the end, and having happy customers."
She met her husband, Mike, at Micron, and together they have an 18-month-old daughter, June. After living in San Jose, Calif., for a year, they are happy to be in Boise.
"I love it here," Renee says. "It's big enough that there's always something to do but not a thousand other people trying to do it."
Renee enjoys biking, rafting and tubing on the river, camping, and downhill skiing on the mountains surrounding Boise.
"I used to take off work at 5 o'clock on Friday afternoons and go downhill skiing with my friends," Renee says, smiling. "I don't do that anymore now that we have June."
The story was written as part of the ISU Alumni Association's 3-year VISIONS Across America project and first appeared here.