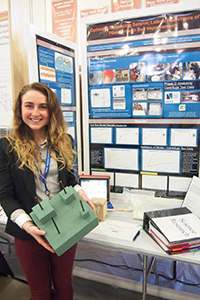 An Iowa State University professor and graduate student developed a research partnership with a student from a top American high school.
Maria Walsh-Regotti, a senior at Ossining High School in Ossining, N.Y., partnered with Sri Sritharan, Wilson Engineering Professor and professor of civil, construction and environmental engineering at Iowa State. As a high school sophomore, she reached out to Dr. Sritharan for help on a two-year research project. Dr. Sritharan then connected his doctoral student, Brad Fleming, to Walsh-Regotti on a soil-foundation-structure interaction project. This created a dynamic research team.
Walsh-Regotti is interested in civil engineering and how structures can be designed to withstand earthquakes. She gained inspiration from her father, who studied civil engineering in college. One day, when she was in middle school, she and a student team built a bridge made of paper and small washer weights. The bridge building was a competition, and her group won. "It was super exciting to me. I love the aspect of engineering that you constantly ask questions and there are no boundaries," Walsh-Regotti said.
In 2012 she began an engineering project that led to an Iowa State partnership to engage in a multi-university National Science Foundation-Network for Earthquake Engineering Simulation (NSF-NEES) project. She admits that it was "a hard thing for a high school sophomore to get into," especially with not yet experiencing difficult math classes. But, she found a research article on earthquakes and testing scaled models of structures and foundations, written by Dr. Sritharan. "I was really interested in earthquake research and everything he was doing," she said.
With this research project, she applied her love of engineering to foundations and structures and developed her own small-scale experimental models. "I dug deeper into this civil engineering study and realized how much every part of a structure is dependent on one another. It's not just the design of the bridge, or the beams that connect to the trusses and everything else; it's also the foundation," Walsh-Regotti said.
She called it "an eye-opening experience," where so many things that have an impact on the integrity of structures could be studied.
In addition to telecommuting, Dr. Sritharan and Fleming invited Walsh-Regotti to the Iowa State campus during summer 2013. "It was interesting to use laboratory and NEES tools used by engineers and engineering students," she said.
Fleming mentored Walsh-Regotti on technical aspects of her project. He made sure soil experiments were set up correctly and the variables were calibrated. Fleming also encouraged Walsh-Regotti to explore some of her own research questions.
"I read many, many research papers on soil compaction and soil improvement," Walsh-Regotti said. "I definitely learned so much more being at the university and from all the contact we had in between."
Fleming also gained valuable lessons while working with Walsh-Regotti: "It made me a better teacher in terms of guiding a high school student from step A to B to C," he said.
Their work has reaped Walsh-Regotti several accolades: Winner of the 2013 Westchester Science and Engineering Fair (WESEF – a local science fair affiliated with the Intel International Science Fair) and 2013 ASM International Foundation Award—both in the Earth Science category; second place at the 2014 Winchester Rockland Subregional Junior Science and Humanities Symposium (University of Albany); and fourth place in the Engineering Section at the 2014 WESEF.
"Although she wasn't familiar with all of the scale similitudes and boundary conditions, it was remarkable that what she was demonstrating was conceptually similar to the NEES research," Dr. Sritharan said. "It's about what she could reproduce, comprehend and appreciate. And, the long-distance collaboration could have easily failed if she wasn't as committed and enthused as she was."
"I got to meet different researchers and learn more about what I want do. It was a really fruitful experience," Walsh-Regotti said.
—————————
Ossining High School won the 2012 Intel Schools of Distinction Star Innovator Award. The award honored Ossining as the nation's best high school for providing rich, rigorous science or mathematics curriculum by incorporating hands-on investigative experiences that prepare students for future jobs, according to a 2012 Intel news release.