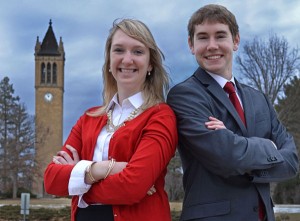 Combining a passion to help others with a drive to solve problems, Hillary Kletscher and Mike Hoefer are ready to take on the challenge of being president and vice president, respectively, of Iowa State's Government of the Student Body.
Kletscher, a junior in biosystems from the small farming community of Vesta, Minn., has a strong agricultural background with a variety of experiences that center on making people's lives better.
Hoefer, a junior in industrial engineering from Cedar Rapids, Iowa, is a people person who enjoys coordinating resources to accomplish big projects.
Adding to their already rigorous curriculums, both are planning to pursue concurrent master's degrees.
Calling them ambitious seems to be an understatement, but they say being an engineer at their core has been a big help on their way to becoming outstanding leaders.
"We are able to look at problems objectively and use a logical method of reasoning," Hoefer says. "In our classes, we also learn to question everything, and we do a lot of group work. Those skills are easy to apply in leadership situations."
Kletscher adds that being an engineer—having perseverance and determination to figure out complicated problems—transfers to leadership, and it means they know how to get things done.
And that's a good thing, considering their plans for the next year.
GSB's mission is to serve students and improve the student experience through advocacy and empowerment. As president and vice president of the organization, Kletscher and Hoefer will be the go-between for students and administration, making sure students have a voice on important issues and that administrative decisions are effectively communicated.
Their campaign platform promises that this will be "the year of the student," with a focus on six major themes: advocacy, academics, sustainability, student life, diversity and student organizations.
Within those themes are specific projects, like finding safer, more convenient parking options for students who come to campus to study and work on projects at night and on the weekend. They also want to provide for more accessible supplemental instruction and tutoring opportunities.
"When we surveyed students last fall, 90 percent of those who responded wanted to expand recycling on campus, so that's something we plan to support as well," Kletscher says.
They will also be building on a bike share program already in preliminary stages. Integrating sustainability with health and wellness, the program is jointly funded by administration and GSB and aims to provide bikes for students to checkout for free.
Yet another project utilizes the talent of computer engineering students to develop an online, student-to-student marketplace. "Students will be able to post, browse for and buy things like textbooks, furniture, subleases on apartments," Hoefer says. "It's a sustainability project that will help students save money and connect with others."
As they talk about their goals, it's clear Kletscher and Hoefer are determined to achieve a great deal for their classmates.
"We're here to serve ISU students and make it a better place. It's exciting to use our experience and engineering problem solving skills to improve things," Kletscher says.
Hoefer adds, "Great leadership is about finding something you love and acting on that. We are very passionate about Iowa State, so our roles with GSB seem a natural fit. We're looking forward to accomplishing big things."