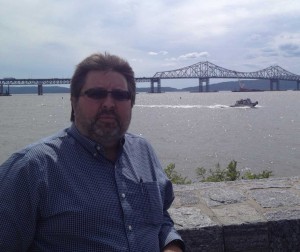 When Mike LaViolette was eight years old, he would spend afternoons at his grandpa's farm watching construction workers operate cranes and place concrete as they built a bridge across a nearby county road. Later on, he went on family-driving vacations that often journeyed across bridges to reach the destination, which includes crossing the Mackinac Bridge in Michigan.  He says these childhood memories are what sparked his passion for construction and bridges.
LaViolette, who received his bachelor's (1990) and master's (1994) in civil engineering from Iowa State, enjoys bridge construction because of the scale and size of solving the engineering challenges on big river crossings. "You also get to work with lots of big construction equipment, big toys essentially," he adds.
He has also had the opportunity to work on record-setting bridge design and construction projects around the world, which includes the Puente Chiapas bridge in Mexico and the new U.S. Navy flyover bridge in Bahrain.  During his time at Iowa State, he also led the design of new bridge for a rural village in Sierra Leone, Africa through the Engineers Without Borders program.
Building a background in structural engineering at Iowa State
LaViolette initially enrolled in the aerospace engineering program at Iowa State because of the complex structural analysis and materials that are required for design of spacecraft. However, the space shuttle Challenger disaster occurred shortly after he had entered the managed-enrollment aerospace engineering program, and it changed his plans. He says the tragedy inspired him to study structural engineering.
He adds that structural engineering became even more appealing after taking courses from retired ISU structural engineering faculty member Mardith Baenziger.
"She really pushed her students to learn classical structural analysis methods and to understand how structures truly work," he said about Baenziger. "She was very demanding of the students in her class, and her teaching method really helped me develop a passion for structures."
In addition to his studies, LaViolette worked as an undergraduate research assistant for Terry Wipf, professor and chair of the civil, construction and environmental engineering department, which began during his junior year.
He assisted Wipf and Wayne Klaiber, a retired Distinguished Professor Emeritus in the civil, construction, and environmental department at ISU, with research into low volume bridge strengthening, rehabilitation and replacement as well as field load testing of bridges. This work continued after receiving his bachelor's degree, when LaViolette served as a graduate research assistant until he completed his M.S. coursework.
Building bridges on a local and national scale
LaViolette found employment in Kansas City with HNTB Corporation, an engineering consultancy firm, where he spent 20 years working on a variety of complex bridge and construction projects across the country and internationally.
In the U.S., he helped coordinate and design the Mississippi River bridges at Cape Girardeau, Missouri, and Greenville, Mississippi and the Gateway Boulevard Bridge in Nashville, Tennessee. He also worked on the design and as the resident engineer for the U.S. 20 Iowa River Bridge project in Iowa.
The Iowa River Bridge was one of the first in the US to be constructed using the incremental launching method, which is a construction approach that can be useful when building bridges over large obstacles, such as valleys or water. LaViolette explains that in this method, a bridge superstructure is completely constructed on one side of the obstacle and then pushed lengthwise into its final position. He says the approach offers several advantages, including increased safety, minimal disturbance to the surrounding area and a more concentrated work area.
The Iowa State connection applied to this project as well. Many of the engineers from Iowa DOT and Jensen Construction that were instrumental in the design and construction received their degrees from ISU. Wipf and his team at the Bridge Engineering Center (BEC) installed a wide array of instrumentation to monitor the bridge during construction.
In 2004, LaViolette accepted a position with the BEC and spent three years teaching structural engineering courses, doing bridge testing and research as part of that group. The BEC works closely with the Iowa DOT Office of Bridges and Structures – almost as an extension of their staff at times – to address challenging bridge engineering problems.
Since 2007, he has continued to work with Brent Phares, the director of Iowa State's Bridge Engineering Center and an adjunct assistant professor of civil, construction and environmental engineering, and others at the BEC on several accelerated bridge construction research projects including two that are currently ongoing. "We've also got two national research proposals that have been recently submitted, and we're anxiously awaiting the selection results," LaViolette said.
Designing and building the new Tappan Zee Bridge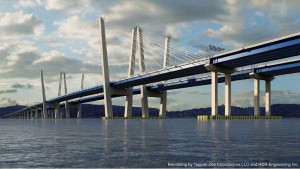 LaViolette joined HDR, Inc. in May 2013 to work on a $3.8 billion design/build effort to replace an existing 1950s era bridge that spans the Hudson River about 25 miles north of New York City, called the Tappan Zee Bridge. He says construction is just getting started and the new bridge is on schedule to be completed in April 2018.
He is currently serving as the deputy design manager for all the bridge structures on the project and is responsible for technical oversight and design direction for all of the structures on the project.
He said the project presents an inviting challenge for bridge engineers because it involves building a pair of replacement bridges that span a 3-mile wide river and are designed to last 100 years without major maintenance.  At the same time, the bridge must overcome challenging foundation conditions that require large diameter piling to be driven over 300 feet into the soil beneath the river bottom.
"When you combine those challenges with the need to incorporate a future double-track railroad structure along with a vigorous public involvement and visual quality process, a bridge engineer couldn't really ask for anything more in a project," LaViolette added.
"The foundation of an interesting career is a great technical education.  I can look back at my ISU years and the mentoring I received from faculty at Iowa State with a great appreciation for the experiences I've had in engineering practice."