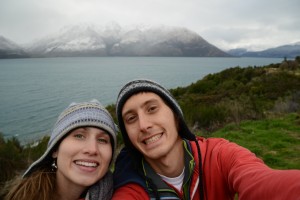 When Keegan and Melissa (Wiechert) Gartner met on the HABET (High Altitude Balloon Experiments in Technology) team at Iowa State, they were both undergrads studying engineering. Keegan was working toward a bachelor's degree in mechanical engineering while Melissa was earning hers in aerospace engineering.
The couple came to know each other through mutual friends, and they eventually began dating and were married in Ames in 2011. Now, as they are settling into their professions, they are finding that what they learned in their engineering courses has given them the versatility to pursue opportunities across the discipline.
A manufacturing engineer at Google[x], Keegan earned his bachelor's degree in 2008 and his master's in 2011, both from Iowa State. He was recruited in 2012 to work on Project Loon—the goal of which is to supply balloon-powered Internet to the world, so his work is also very aerospace-focused.
Melissa, who earned her bachelor's degree in 2010 and a master's from the University of Minnesota in 2012, works as a mechanical engineer at Northrop Grumman—a defense contractor in Northern California.
Creating Project Loon in the 'secret' labs of Google
Keegan remembers the first time Google[x] contacted him about joining the team: he received an email saying a recruiter from Google wanted him to work on a secret project. He immediately marked it as spam.
Soon after, Matt Nelson—an engineer designer in aerospace engineering and advisor of HABET—mentioned that he gave Keegan's name to a Google recruiter. He sent his resume, went through the interview process and began the job in April 2012.
Google[x] is a team of inventors, engineers and makers that applies bold thinking and technology to big problems in order to change the world in a positive way.
"So the idea is, in 10 years are we still going to be driving our own cars? Are we still going to be carrying around smartphones and laptops, or are computers going to be in things you put on your head, or in watches—or in your shoes, or your belt?" he explains.
While Keegan was hired to work specifically on Project Loon, he has helped out with a few other projects. "Part of the motivation there is that you've got all these smart people from different backgrounds in the same area, and you want them talking to each other," he says.
"They can all bring valuable insight to the problem. And that's how Google as a whole works, too: there's a lot of good collaboration between people."
The project's goal is to use balloon-powered Internet to provide affordable Internet access to rural, remote and underserved areas.
According to its website, "Project Loon uses software algorithms to determine where its balloons need to go, then moves each one into a layer of wind blowing in the right direction."
To sum up the work of Google[x], Keegan says, "Basically you start with this idea—and it might be super crazy, like giving people Internet from balloons that float in the stratosphere—but you do all this work to see what are all the things that should make this impossible?
"We kind of went through that process, and we couldn't come up with anything that would prove this thing is fundamentally or physically impossible to do, so then it's a matter of sorting out the rest of the details."
Though still in the early stages of development, the team is making good progress on the project.
Using an aerospace degree to build marine equipment
Despite several shifts in each industry position she's held, Melissa has carried a steady interest in defense work.
Melissa's degree gave her varied experiences at each internship: she worked at Rockwell Collins in Cedar Rapids, ATK Launch Systems in Utah and the Air Force Research Laboratory in Boston.
"Everything I've done career-wise has been totally different," she says. "You can do a lot of stuff with aerospace; I mean, I worked with fluid dynamics and marine systems—I never expected to do that."
At her current position with Northrop Grumman, Melissa helps build giant gears and turbines for propulsion of Navy submarines.  She works in manufacturing, where she sees production from beginning to end.  Her work is very hands-on because most of the designs have already been made.
She loves to be on the production line because, while in grad school, Melissa found that she wasn't as interested in the theoretical work as the applied work. She also likes design, but her first interest is building.
As a government contractor, Northrop Grumman offers a wide range of products and technologies focused on national defense and global security. The company's work spans that spectrum, with applications in areas ranging from undersea to outer space and into cyberspace.
One highlight of her role is her opportunity to work with so many different people, from manufacturing to design to operation management. She gets to work with a variety of colleagues in a production environment that includes ebbs and flows, plus interesting challenges in getting through what needs to be done in building and delivering high-quality products.
Balancing work and friends is still important to a healthy life, and it's something Melissa can trace back to her time at Iowa State. The constant pull of her academic life and trying to build a support system of friends helped her prepare for an even more hectic life, where people are much more intense about work.
Ten-hour days are common among engineers, especially in the fast-paced environment of California. The always-working, entrepreneurial spirit of the Silicon Valley was an adjustment for the Midwest-born couple.
Both Melissa and Keegan agreed that if they'd been asked five years ago whether they planned to move to San Francisco they would have said absolutely not. But now they can both agree it was a good decision, given that they are both young and can spend more time working because they don't have kids yet.
Experiencing the wealth of opportunities from an engineering degree
Degrees in engineering offer a wide range of opportunities in professional careers, as the Gartners have learned from their short time in industry.
"It's kind of funny, because we were both technically manufacturing engineers but we do almost completely different ends of the spectrum," says Keegan. "She builds one or two things and it takes six months to a year, and I'm trying to build hundreds of things per week."
They've also found that being one half of an engineering couple has its perks: Melissa says their shared knowledge allows them to understand what the other is talking about, which allows them to help each other.
Sometimes they help each other in the form of venting, which is easier with a shared background, says Keegan, who has also used some of her old aerospace textbooks.
They continue to gain valuable experience and look ahead, and the Gartners know a foundation in engineering will open their doors to a future of possibilities, even some that they may not have imagined.
"You know, life is what it is, and it takes you where it will," adds Keegan.