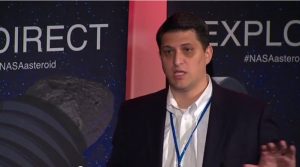 Scott Sevcik, a 2002 aerospace engineering alumnus, has had to make some unique choices throughout his life.
Sometimes the decisions were lighthearted and fun. Like during Sevcik's senior design presentation, when he and his teammates served a cake (baked at 3 a.m. that morning while they were finishing their project) in the shape of an unmanned aerial vehicle (but they forgot the forks and plates).
Other times, his choices required thoughtful reflection. Such as when the company he was working for was closing one facility and relocating his position, taking a job he was passionate about and a team he truly enjoyed working with across the country. In the end, Sevcik decided to stay put so his wife and now four children would have a close connection to their extended family.
"I chose what was best for my family, and ultimately it was easy to make the right decision," Sevcik reflects. "I've moved further from my core interests, but my family and the relationships my kids have with their grandparents make it completely worthwhile. Plus, just because I can't go where the coolest stuff in the industry is happening, doesn't mean I can't find a way to stay connected."
That "cool stuff" Sevcik is interested in includes asteroid mining. And his connection to the field was most recently made when he joined a group of scientists, engineers and space enthusiasts during NASA's Asteroid Initiative Idea Synthesis Workshop, held at the end of September.
Talking asteroids
Attending the workshop was another tough decision for Sevcik because it meant using vacation time, funding the trip out of his own pocket and being away from his family for nearly a week with no tangible career benefit. But it was an opportunity he just couldn't pass up.
He was slated to give two presentations at the workshop, which included 96 topics out of 400 submitted. Sevcik's first concept was about redirecting an asteroid with a swarm of small satellites. The other was about ways NASA could expand industry engagement and reduce barriers to entry for small businesses. But he almost lost the chance to actually share his ideas to a room full of listeners due to the government shut down, which canceled the workshop.
Regardless, Sevcik is excited about the opportunity to join the conversation, and fate was on his side to allow him to make the most of the event that ended earlier than anticipated.
He met with a subset of the group for lunch after the workshop was officially canceled. "About two dozen people came, and we took the opportunity to discuss what we would have presented and got into a lot of discussion on how industry should move forward, with or without NASA," he says. "I got an opportunity to engage, have my ideas heard and make some additional connections."
Another participant arranged to extend that lunch further into the afternoon at another location. As Sevcik was headed to catch his rescheduled flight, he got word that there was a delay so he met with the group instead. "I'd say it was the best flight delay in history," he says.
The meeting ended up in what Sevcik describes as a "speed dating session," where he got to have quick conversations with a wide variety of people, including Bong Wie, Vance Coffman Endowed Chair Professor at Iowa State.
Back to reality
When he returned to Minnesota, Sevcik was disappointed in not being able to present, but he knows that it was a great opportunity to keep his interest in the emerging commercial space industry alive and well.
Sevcik is currently a program management manager for UTC Aerospace Systems, where he started as an engineering project lead, managing support activity for in-service Air Data Systems. He was soon asked to take point on a large development program that was struggling.
"Some of my successes in that role led to an opportunity to move back over to the business side as the program office manager for commercial transport and rotorcraft programs," he says.
He joined the company, which was Goodrich at the time, after leaving Lockheed Martin when it closed down its Eagan, Minn., facility.
He says it was a bittersweet moment because he was hired by Lockheed Martin Space Systems as a result of his senior project at Iowa State.
"The project involved simulating missile interception trajectories, and Lockheed Martin hired me to work in a simulation group for the THAAD missile defense program," he recalls.
The company treated him well, and he was selected for the Engineering Leadership Development Program, part of which was to rotate into different positions and groups for 9-12 months at time. He says his mentor, Julie Pound, helped him learn the business side of the defense industry much earlier and quicker than he could have ever imagined.
As Sevcik moved around Lockheed Martin, he also completed an MBA and an MS in aerospace engineering from San Jose State University.
About the time he wrapped up his master's degrees, his wife started a residency at the Mayo Clinic, and the couple moved back to Minnesota. Sevcik took a position as a proposal manager with Lockheed Martin, and he spent two years writing proposals and planning programs before becoming the deputy technical director for a large program to refurbish 12 retired P-3 aircraft with an all-new mission system for delivery to Taiwan.
He held that position for a little over two years before he decided it would be best to stay in Minnesota instead of transfer to a different Lockheed Martin location.
More problems to be solved
Sevcik's journey so far has taken him to Singapore to brief the government on the capabilities of a system they were interested in, France to see the final assembly line of a world-class business jet and discuss opportunities for improvement, and to a hanger in South Carolina to brief an admiral from the Taiwan Navy.
"It only took about 10 years to work my way around the country, and I've literally circumnavigated the globe," he says.
And his impact doesn't stop there. Sevcik has been a couple feet from hardware that is now on the surface of Mars, and he's contributed to the design of some incredible hardware operating on and above Earth.
"Every job I've had and every project I've worked has been challenging," he says, and that's what he loves about being an engineer. "Even in the non-technical roles I've been in, I've approached those problems as an engineer. There is immense satisfaction in solving a problem and then moving on to the next one. There is a sense of closure and accomplishment that I'm not sure how I'd find in roles that don't center around problem solving."
He says that ability to solve problems started with the education he received at Iowa State.
"What you don't realize while you are in school is that all the different classes, all the different things you learn, and all the different types of problems you are asked to solve, give you tools so you can face undefined problems," he adds. "The education gives you bits and pieces to drawn from. It gives you seemingly unrelated skills or methodologies that someday you end up using together to work past a problem."
Armed with an aspiration to solve problems and the talent of making the right choices, Sevcik is well prepared to continue his success wherever life takes him next, which very recently happened to be Houston, where he got to give his presentations during the rescheduled NASA's Asteroid Initiative Idea Synthesis Workshop.
"Going back to Houston and actually presenting was a really great feeling. It gave closure to the whole process of having been selected to present in the first place and almost losing that opportunity," Sevcik reflects. "At the same time, it leaves me encouraged that I'll be able to continue to find opportunities to have an impact in the space industry without having to uproot my family."