Growing up in Royal Oak, Michigan, near "Motor City" and being surrounded by "automobile people," fueled Jim Bernard's love for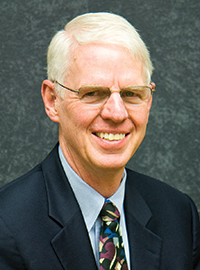 cars. It was also the start of his career in automobile handling, during which time he examined vehicle models using computers to predict the outcomes of various situations.
Bernard—distinguished professor emeritus of mechanical engineering—earned his bachelor's degree in engineering mechanics from the University of Michigan in 1966. He earned his master's and doctoral degrees in engineering mechanics from the University of Michigan in 1968 and 1971, respectively.
Upon graduation, Bernard worked at a research institute at the university before joining the mechanical engineering faculty at Michigan State University in 1976. He was hired to the Iowa State University faculty in 1983 when he became chair of the mechanical engineering department, a position he held until 1990.
After that, Bernard helped found and became the first director of the Iowa Center for Emerging Manufacturing Technology—now known as the Virtual Realities Application Center. Bernard was the director until 2003, when Jim Oliver, professor of mechanical engineering, took the position.
His fascination with virtual applications and computers stemmed from how fast the technology changed through the  '80s and '90s.
"We were all excited about the potential for the hot new digital technology that was changing every day," he adds. Beginning with simple animations, Bernard and his colleagues at VRAC started creating animations for engineering purposes, like assembly lines.
Those animations became the strength of the center, drawing in students and people from all over the country who were interested in being involved with the growing program.
Bernard was also part of the group that created the virtual reality graduate program called human-computer interaction at Iowa State in 2000. The HCI program helped establish VRAC as its own center, which took on a different purpose than when it was started as the Iowa Center for Emerging Manufacturing Technology.
Now, VRAC is a growing part of Iowa State, and it has been the foundation of many new companies started by Iowa State alumni and faculty alike.
Three companies with roots in VRAC had founders closely tied to Bernard, and he has served all of them on each company's Board of Directors. He was with Engineering Animation Inc. from 1989 to 1995, and he continues to serve Mechdyne, which he started in 2003, and Demonstratives Inc. since 2008.
Bernard held various positions at Iowa State in addition to his time with outside companies, saying he "had one cool job after another."
He was the interim director of the Computation Center from 1995 to 1997, interim dean of the College of Engineering from 2008 to 2009 and an Anson Marston Distinguished Professor of Engineering from 1999 to 2010. He is currently advisor to the CEO of WebFilings, another VRAC spinoff company.
Since retiring, Bernard has kept busy with the companies he's been involved with for many years, but he also enjoys the outdoor life in Colorado, where he now lives with his wife Mary.
Bernard skis and hikes whenever he has the chance and continues to stay involved with technology. He comes back to Iowa a few times a year to visit VRAC, spend time in the WebFilings and Mechdyne offices, and play racquetball with his friends at Iowa State.
With such a long career and so many opportunities at Iowa State, Bernard says he has no regrets and is thankful for every opportunity he was given. Being hired as a department chair at such a young age was an honor for Bernard, but he feels his biggest accomplishment was working with graduate students.
"I've had really neat students to deal with. To know that I enabled their careers—that would be the best thing for me," says Bernard. "I was lucky to work them, so whatever part of their career that can relate back to me, that's what makes me most proud."