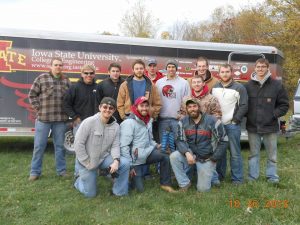 Iowa State's Baja SAE team took their cars and crew to the University of Wisconsin-Stout on October 26 for Backwoods Baja. The ISU students raced alongside teams from more than 20 other schools, ultimately finishing in second place overall.
A non-sanctioned SAE event, this year's Backwoods Baja consisted of two overall endurance races, as well as a fastest-lap race with a Le Mans-style start.
The Iowa State team attends the race at UW-Stout every year, usually taking whatever cars are running. This year those cars were number 28, which finished 10th out of 90 at the Rochester World Challenge last year, and number 14, which was used to get the team's newest members acquainted with competing.
"It's a good time for freshmen to get in the car and get some seat time. It really gets them hooked on what Baja is, what we work towards," said Andrew Tauke, junior in industrial technology.
The team used Backwoods Baja as an opportunity to try out a new, lighter hub on one of the cars. The experimental hub ended up flying off in the last 30 minutes of a race, while Tauke was driving. "You come to a stop pretty quickly," Tauke laughed, "but we were able to get towed into the pits, and you just put a new hub on and in five minutes we had it back on the track."
Alisha Daly, senior in mechanical engineering and president of the ISU chapter of SAE International, said this year's Baja team is hoping "to place in the top ten in the design portion of the competition by validating our designs with testing and FEA.  We are also aiming to improve reliability to withstand three competitions this year."
Tauke said the team also has their eyes on the Iron Team award, received by the team with the most overall points from the three SAE-sanctioned races. Iowa State's team will be attending all three races for the first time this year. "If you get a couple of first-place finishes, second-place finishes, you're going to be a prime candidate for that, so I'd really like to see Iowa State win that. That would be awesome," Tauke said.
Tauke joined the Baja team as a freshman after talking to the peer mentor for his learning community, who served as technical director for the Baja team at the time.
After staying involved throughout his time at Iowa State, Tauke is this year's tech director. "It's my responsibility to make sure everything on the car is going to meet rules and that we're prepared not only with the car but with cost reports, design reports, and making sure we have all our travel stuff in line," Tauke said.
The three SAE-sanctioned Baja competitions will take the students to Texas, Kansas and Illinois this year. Attending three races means this year's car will have to be completed in April, while the team has previously had the entire spring semester to finish construction.
The team's hard work will hopefully be rewarded with even more success. "The competitions are the most exciting part, and it's very rewarding when everyone's design work holds up in the endurance race," Daly said.
For the Iowa State Daily's story on the Baja SAE team, click here.