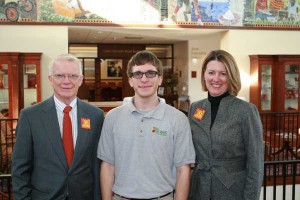 When Casey Nelson sits down, you can tell he's a student with a lot on his plate. It's not that he seems overwhelmed. It's more like he's assessing a checklist in his mind that is constantly changing but never fully going away.
As he starts in about his experience as a student in biological systems engineering, Nelson highlights his leadership experiences as treasurer for both the ISU BioBus and BSE clubs, and he mentions how his interest in learning about new cultures inspired him to join the Korean Language club and take a study abroad trip to South Korea over the summer. And then he notes that his time as an Iowa Statesmen allows him to continue his interest in music, arts and drama.
When his phone unexpectedly rings, Nelson politely excuses himself because the caller is his BioBus team advisor, and he quickly resolves an issue for the team as they set up for Destination Iowa State.
He apologizes for the interruption and picks up with details about what led him to engineering at Iowa State. "As a high school student, I met a local businessman who was creating his own biodiesel plant by using waste cooking oil. After working with him for a summer, my interest in renewable fuels gradually progressed from there."
This past summer, he participated in an internship with Iowa Select Farms, working both on campus and at facilities in and around Iowa Falls to research grain flow analysis.
It was while he was working at his internship that he would first hear of Ed and Ana McCracken—a couple who is now helping Nelson pursue his goals in a field that keeps drawing him in further.
Ed (BSEE'66) and his wife Ana (BSFM'84) have a long history tied to Iowa State that led them to establishing the McCracken Engineering Scholarship, of which Nelson is the inaugural recipient.
"Higher education is costly today," Ed says. "And through our scholarship, Ana and I hope we can relieve some of the financial stress for students."
This isn't the first round of support the two have provided to Iowa State. While CEO of Silicon Graphics, Ed donated computer workstations and computers to Iowa State University and to the Virtual Reality Applications Center in the College of Engineering. During the early 1990s, Ana served as board president as well as chaired the scholarship and social committees for the Chicago Area Chapter of the ISU Alumni Association.
The couple, who wed this October, chose to set up the scholarship in engineering because they met in the heart of Silicon Valley, a place where many engineering alumni are working in technology that is designed to make the world a better place.
Even though their lives intersected many times from 1995 to 2010, it wasn't until former ISU President Gregory Geoffroy's alumni tour stop in Palo Alto, Calif., in May 2010 that their stars aligned.
"Ed and I had met several times before that evening," says Ana. "He presented numerous times at one of the executive education programs where I was the director at Stanford Law School. I took a learn-to meditate course from Ed in '96, and during lunch we ate together and learned that we were both Iowa State alumni."
"We re-met again in 2008 at President Geoffroy's fund-development luncheon in Napa," adds Ed. "In the vineyard, Ana ate lunch with me and my wife Rebecca, who passed away from cancer in 2009."
Shared interests are important to Ana and Ed. And because Iowa State brought them together, they have happily increased their involvement with the university. In 2012, Ana joined the board of the ISU Alumni Association, and Ed is associated with the Iowa State University Foundation Board of Governors.
"As board members, you don't usually get to see results in action for students, and we wanted to find a way to directly touch a student's life," Ana says. "Years ago, it was so rewarding to chair the scholarship committee on the Chicago ISU Alumni Association board. Every year the committee interviewed students, and it was the highlight of our year as board members. The students who were heading to Iowa State were so excited. I can still feel their enthusiasm."
Their gift was also an answer to the call current ISU President Steven Leath made to help keep education accessible to students and allow them to pursue their educational goals and dreams while preparing for meaningful careers.
"President Leath's 'Moving Students Forward' campaign is a great way to engage with Iowa State," Ed says. "Students are at the heart of the university, and being able to support them on their journey is an honor."
For Nelson, the support means he will be able to pursue many rewarding educational opportunities that come his way.
"I don't have to worry about the financial stuff. It frees up your time, too, because now I don't have to have a job to make ends meet. I can go after positions that will enrich my career," Nelson says.
Speaking of his career, Nelson adds that his first goal is, of course, to finish his engineering degree. From there, he says a possible MBA with an emphasis in international relations might be in the future.
"I want to explore the renewable energy market from a global perspective and work with countries to build cooperation and share ideas and technology. There's a lot out there that could improve the world, and I want to be a part of that."
He says thanks to this scholarship, his vision is more likely to come true.
"I hope this fund and the university initiative benefit many more people as much as it has me. It's going to make a drastic difference for my future and others. I'm so grateful for this opportunity."