The 2013 Grace Hopper Celebration of Women in Computing was held at the Minneapolis Convention Center in early October and welcomed a sold-out crowd from all over the United States. For three days, speakers provided attendees with technical sessions that covered a wide range of subjects and topics, and leading researchers presented their work in areas of engineering, computer science, and information technology.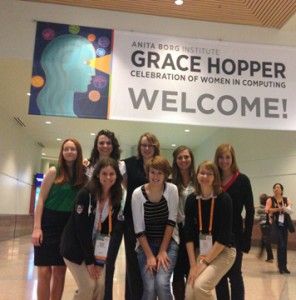 Among the faces in the crowd were 10 Iowa State University students who attended the Grace Hopper Conference as ambassadors of the Department of Electrical and Computer Engineering through professional development awards funded by the department.
Kelsey Moore, president of Digital Women and a member of IEEE, is a senior in computer engineering with a passion for the automotive industry. Consequently, she was excited to learn that the conference had something that fit what she was looking for.
"My favorite part of the conference was a panel of women from Ford talking about the automotive industry," said Moore. "I learned some more technical parts of the car that are related to programming and the strict standards they have to undergo."
With a schedule packed full of seminars and keynote speakers, it would be hard to find something that doesn't match the interest of each and every person in attendance. The conference also invites businesses and organizations to meet with women one-on-one for interviews and information sessions.
Brittany Oswald, a senior in computer engineering, hopes to find a career in the Twin Cities area after graduation. With this year's conference in Minneapolis, she couldn't turn down the opportunity to attend and get her name out there in the community.
"Conferences are a great opportunity to meet people with similar interests, and people who have overcome challenges you may be currently facing," said Oswald, "plus, it's a great place to find a mentor and build professional relationships."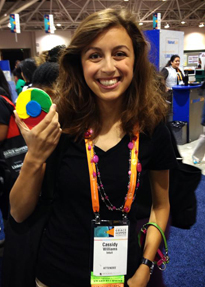 Cassidy Williams, senior in computer science, has been attending the Grace Hopper Conference for the past two years, making this her third visit to the event. When asked why she keeps going back, she explained that it all boils down the sense of community.
"There's so much high energy around you that you don't normally find at school," she said. "We're all here to advise, advocate for, and accelerate each other to be better. Just like one big family, aiming for one goal: to advance women in tech."