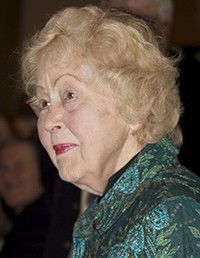 Mary Krumboltz Hurd, a female engineering pioneer and 1947 Iowa State civil engineering alumna, died Friday, Sept. 27. She was 87.
Hurd, a woman in an almost male-exclusive profession, authored a book, "Formwork for Concrete," in 1963 that would be broadly used in the construction industry and at universities. In fact, she listed her name as "M. K. Hurd" because she thought a female-authored civil engineering textbook would not be taken seriously. Today, after more than 125,000 copies have been sold, the book is in its seventh edition and provides a broad range of information pertaining to improving quality, safety, and economy in all types of formwork. This book has been used in Iowa State civil engineering courses and other civil engineering programs worldwide.
Hurd was past president of both the Concrete Improvement Board of Detroit, Michigan, and the Michigan Chapter of the American Concrete Institute (ACI). At the ACI national level, Hurd was past member of the Board of Directors and several committees throughout her ACI membership (starting in 1977). She also was a life member of the American Society of Civil Engineers, a professional member of the Precast/Prestressed Concrete Institute, a member of the Construction Writers Association and a member of the Concrete Society of the United Kingdom. Hurd progressed to editor and engineering editor of the Concrete Construction magazine.
Hurd received many awards throughout her career from the American Concrete Institute and other institutions. She received the following Iowa State University awards: Person of Distinction at the Iowa State University Sesquicentennial (2008), Anson Marston Medal (2005), and Professional Achievement Citation in Engineering (1982). This November she had planned to receive the Iowa State University Alumni Merit Award. This award honors alumni who demonstrate outstanding contributions to human welfare that transcend professional accomplishments and bring honor to the university.