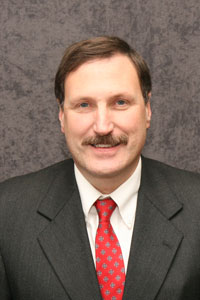 A priority for Engineering Career Services is to help our students and alumni connect with employers. The great reputation of the College of Engineering and the college recruiting process brings more than 400 employers to campus each year. These employers seek to identify individuals with skillsets and interests that match their engineering talent needs.
One of the biggest contributors toward helping students/alumni and employers connect is the Engineering Career Fair. Held twice a year, the career fairs are large networking events where students can meet with a number of potential employers in a short period of time. Alternately, employers get to engage with a large number of job seekers during the event.
Engineering Career Services, and more specifically Roger Bentley, is in charge of the overall planning and execution of the fairs. There is also a large student contribution that provides opportunities for leadership, teamwork, project management and other skill-building experiences. Two co-chairs, four subcommittee leaders and nearly 100 student ambassadors contribute to each fair.
The most recent career fair in September was the largest ever held at Iowa State. More than 5,600 students and alumni visited one or more of the 323 employers that participated in the fair. When an individual with the required qualifications connects with the right employer and makes a positive impression, this generally leads to an interview. As a result of the career fairs and other networking events, Engineering Career Services hosts over 4,000 on-campus interviews each year.
Even students who aren't actively seeking employment are encouraged to attend the career fairs for the networking and professional skills development benefits. Many of the recruiters are College of Engineering alumni. Not only do they make employment opportunities available, but they also offer feedback and advice to help students develop their networking and interviewing skills. We are very grateful to the employers who come to campus each year to recruit our engineering students.
Our students are in high demand with a five-year average placement rate of 95 percent, and they enjoy an average starting salary of $62,000. Hear firsthand why so many employers are interested in Cyclone Engineers in this video.
About the author
As director of career services for the College of Engineering, Brian Larson leads the college's effort to help students and alumni find rewarding employment where they can be successful. He also plays a role in maintaining strong corporate relations so employers continue to recruit at Iowa State and support the College of Engineering. Larson holds a degree in metallurgical engineering from Iowa State.