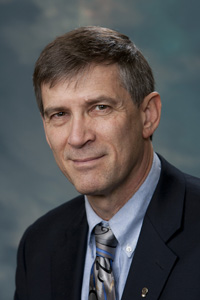 The American Society of Civil Engineers (ASCE) has selected Paul Giroux, 1979 Iowa State University construction engineering alumnus and district quality manager with Kiewit Corporation, as the recipient of the 2013 Civil Engineering History and Heritage Award. Giroux will personally accept this award during the ASCE Annual Conference in Charlotte, N.C., on Oct. 12.
The award recognizes those who, through writing, research or other efforts, have made outstanding contributions to a better appreciation for the history and heritage of civil engineering. Specifically, Giroux was recognized for sharing the history and lessons of great civil engineering projects with engineering students, fellow engineers and the general public through his outstanding lectures and leadership.
"I am honored to receive this award," said Giroux. "It is a reflection of the many inspirational mentors I have worked with during my Kiewit career and my involvement with the ASCE History and Heritage Committee."
Currently, Giroux assists ASCE in commemorating the 100th Anniversary of the opening of the Panama Canal in 2014. He has also served as ASCE chairman, principal lecturer and featured speaker for events such as the Golden Gate Bridge 75th Anniversary, the ASCE Hoover Dam 75th Anniversary Symposium in Las Vegas and the 125th Year Celebration for the Brooklyn Bridge in New York.
Giroux serves on the Iowa State University Civil Engineering Advisory Board, the Transportation Research Board and is a corresponding member of the ASCE History and Heritage Committee.
Giroux has been with Kiewit since 1974, working on a wide variety of heavy civil engineering mega projects throughout the United States. He has played a key role in projects such as the Fort McHenry Tunnel in Baltimore, several projects on the Big Dig in Boston, including the new Zakim/Bunker Hill Bridge, and the new San Francisco Oakland Bay Bridge East Span.
(This article is attributed to Kiewit Corporation.)