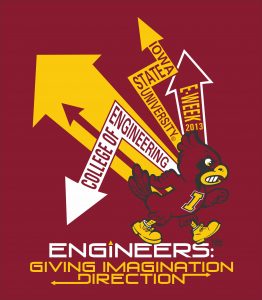 Committees have been working hard since February to prepare for the College of Engineering's annual Engineers' Week (E-Week). The chosen theme "Engineers: Giving Imagination Direction" embraces the many opportunities for engineers and the various paths they take.
Several new events will be happening at this year's E-Week, including a Nail-Hammering Relay and other similar activities that will take place during lunchtime. Professors have also been invited to make presentations during Thursday's lunch.
Travis Taylor, from the National Geographic Channel show Rocket City Rednecks, will be speaking on the first day. Taylor is currently working on his sixth engineering degree and will sign copies of his book, "A New American Space Plan," following his talk.
Highlighted events include:
Engineers' Week Kickoff—Friday, Sept. 20, starting at 5:30 p.m. in the Hilton Coliseum/Scheman Building. Travis Taylor will speak at 7 p.m. with a book signing to follow at 8:30 p.m.
Engineering Career Fair—Tuesday, Sept. 24, noon to 6 p.m. at Hilton/Scheman with more companies than ever before looking to meet and hire engineering students.
Charity Ball (open to any student, not just engineers)—Friday, Sept. 27, at Howe Hall Atrium from 8 to 11 p.m. Proceeds from the event will benefit Minds of Tomorrow.
Publicity Tables—Monday, Sept. 16, to Friday, Sept. 27, from 10 a.m. to 1 p.m. located between Marston and Hoover Halls. The tables will have giveaways including t-shirts and Charity Ball tickets.