Michelle Soupir, assistant professor of agricultural and biosystems engineering, is currently working on two research projects dealing with the fate and transport of bacteria from livestock systems.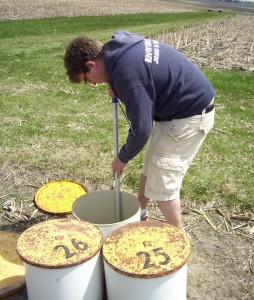 Her first project, funded by the National Pork Board and the Leopold Center for Sustainable Agriculture, looks at understanding the occurrence and movement of antibiotics, antibiotic-resistant bacteria and genes responsible for antibiotic resistance in manure and manure's effect on soil and water quality from repeated application.
Soupir's team is conducting studies at a research farm near Nashua, Iowa, which has a long-term history of managed agricultural systems and at least 30 years of data looking at the impacts of water quality from repeated swine manure application.
Most confined animal feeding operations feed low doses of antibiotics to animals to promote growth and keep the herd healthy, but there have been reports of intestinal microbes found in manure that are developing resistance to the medicine.
Soupir said previous studies have found that up to 75 percent of the antibiotics administered to animals can pass through their systems. Questions have arisen about whether the antibiotics are able to move from the soil to the water, eventually making their way to lakes and streams, ultimately affecting humans.
Even though the bacteria are exposed to antibiotics meant for livestock, they could develop resistance to human drugs if they belong in the same class of antimicrobials.
"There's potential that if these chemicals and microbes move offsite into surface water and recreational waters, people could get infected by an antibiotic-resistant organism," Soupir explained.
Two years into the grant, Soupir said weather has been the biggest challenge.
"We had a relatively normal year in 2011—it was a little dry, but 2012 was really dry and then 2013 started out really wet," she said. "It's hard to provide reasonable information on how a pollutant moves offsite when weather has such an impact on it."
Soupir said her team has been getting very different results year to year due to the differences in rainfall, but she hopes to extend the research by a few more years.
"Hopefully we can justify continued monitoring at this site because the more years of data we have, the better we can use statistics to figure out what's really going on."
The second research project Soupir is leading began in October 2012 and is funded by the National Science Foundation. It centers on understanding exactly how the bacteria move offsite.
Her group is looking at different organic particles—like swine or cow manure—and assessing the organics, trying to figure out what properties of those particles attract bacteria.
"Right now we're just trying to characterize the different particles that we're working with, and figure out if the bacteria will preferentially attach to different types of organic or sediment particles. Our next step will be to examine the genetics of the bacteria to see if some organisms preferentially attach due to differences in their DNA," said Soupir.
Preservation of human health is the underlying theme of Soupir's research because humans can come into contact with the bacteria so easily.
"Once these organisms are in surface waters, someone could go canoeing or swimming and be exposed to them."
Her long-term goal is to better understand how the bacteria move offsite and to design practices to prevent them from polluting surface waters.
Watch a video about Soupir's research from the Leopold Center for Sustainable Agriculture here.