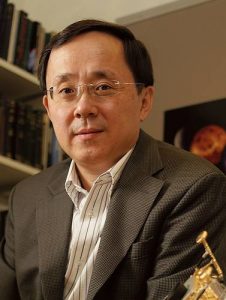 Ping Lu, professor of aerospace engineering, has been appointed the editor-in-chief of the American Institute of Aeronautics and Astronautics' Journal of Guidance, Control, and Dynamics. Lu has served as an associate editor of JGCD since 1996.
"Publication of scholarly work is an important responsibility of the research community," Lu said. "Being involved as a journal editor allows me to keep abreast with the pulse of current research, enjoy at the earliest opportunity the work of leading researchers in the field, and help less experienced authors improve and publish their worthy work. It has been a very rewarding experience."
He adds that JGCD is a premier journal in aerospace guidance, control and flight dynamics, and it is among the highest ranked research journals within the field of aerospace engineering as a whole. He will be working with an editorial team of 29 associate editors and 10 international advisors to maintain and enhance the quality and reputation of the journal.
Replacing Dr. George Schmidt, Lu is just the fourth editor-in-chief since the journal was established in 1978.
"The three former editors-in-chief for JGCD are members of National Academy of Engineering and/or Fellows of the American Institute of Aeronautics and Astronautics," Lu said. "I am very honored and humbled to be among such a small group of distinguished individuals."
In addition to his work with JGCD, Lu has served as an editorial board member for the journal Optimal Control Applications and Methods. Lu also served as a member of AIAA's Guidance, Navigation, and Control Technical Committee from 1994 to 2001, and was treasurer of AIAA's Iowa section from 1993 to 1998. His honors and awards include the 2008 AIAA Mechanics and Control of Flight award, as well as an AIAA Sustained Service Award.
AIAA's JGCD disseminates original archival papers disclosing significant technical knowledge, exploratory developments, design criteria, and applications in aeronautics, astronautics, celestial mechanics and related fields. The journal publishes qualified papers on dynamics, stability, guidance, control, navigation, optimization, electronics, avionics, and information processing related to aeronautical, astronautical and marine systems.