Greg Luecke, associate professor of mechanical engineering, and four of his graduate students will spend the next week and a half at the Iowa State Fair as their research project with John Deere is featured in the Agriculture Building.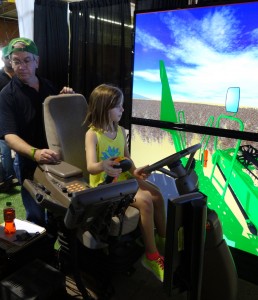 A harvesting combine simulator with virtual reality interface is currently in the human testing stage to "validate new technology and assess acceptance, usefulness and operational interactions," said Luecke.
Luecke is leading the project with his co-investigator Stephen Gilbert, assistant professor of industrial and manufacturing systems engineering.
Although the research project is not yet complete, it has been successful enough that the director of John Deere's Worldwide Harvester Operations wanted it set up at the fair. The display is sponsored by Alliant Energy.
The interactive exhibit of the Model Year 2014 combine is open for operators of all ages to test. It is located across from the Iowa Egg Council, Iowa Turkey Federation and Iowa Dairy Association windows, near the information table.
Luecke is excited for the opportunity to showcase his research at the large venue, saying his "VIP treatment" has even landed him a spot next to the Butter Cow. "Talk about high profile!" he said.