Elizabeth Bierman began her term as president-elect of the Society of Women Engineers this year, but her connection to the group goes back to her freshman year at Iowa State.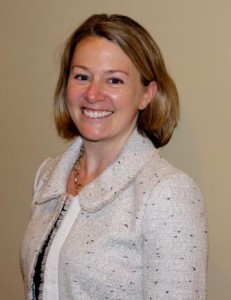 Bierman joined SWE after her first week on campus in 1994, and her participation grew each year, extending to the professional level.
Graduating from Iowa State with a bachelor's in aerospace engineering in 1999 and later with a master's in systems engineering in 2005, she says she met her best friends through the group and the experience gave her a chance to learn about leadership and empowering others.
As the membership chair at Iowa State, Bierman was successful in setting and reaching a goal to get more than 100 members. "We really put the effort into getting it to be a strong organization on campus," she remembers.
After college, Bierman took a job with Rockwell Collins in Cedar Rapids, Iowa. Finding there was not a professional section of SWE in that area, she came together with fellow female engineers and started one to support the Cedar Rapids-Iowa City area.
"Society of Women Engineers is not just for the collegiate group," says Bierman, "It's for professionals as well, and it's been able to provide me with a strong network throughout my career."
Bierman was involved with SWE sections in Boston and Minnesota before moving into positions at the regional and national levels. She has been on the Board of Directors for the last three years.
SWE strives to motivate women to achieve full potential in careers as engineers and leaders as well as demonstrate the value of diversity. When she takes over the presidency next year, Bierman will be the face of the organization, which now has more than 25,000 members worldwide.
She says she would like to see the society expand more globally. SWE now has a presence in India and Germany, and Bierman wants to give more locations the opportunity to use the benefits provided by the organization.
She also sees the need to strengthen the outreach program to K-12 students. "If you ask sixth graders what an engineer does, they might give you a blank look," says Bierman. "But if you ask them what a doctor or lawyer does, they know exactly what that is.
"It's really getting that conversation changed to let students know all the great things that engineering entails."
Also on the agenda is advancing the society's efforts to improve public policy. Bierman has traveled to Washington, D.C. for the last three Congressional Visit Days to share the importance of SWE and STEM education.
"We let congress know that we really should be putting funding into programs to support more students to go into the field," says Bierman.
"The message is gaining popularity, and I think people understand our education system is a way for the United States to stay competitive."
Although her position with SWE is unpaid, Bierman devotes much of her time to the organization, saying she enjoys it so much that it doesn't feel like work.
She takes business trips about once a month for either SWE or her job at Honeywell—where she's now been for 10 years—thankful that the company allows her the flexibility to travel so often.
Bierman says the efforts of groups like SWE are starting to pay off, as she has noticed that many companies are starting to value the diversity of perspectives from women and other minorities. She adds that life experiences vary from person to person, which also makes for stronger teams.
"If you look at companies that have gender or ethnic diversity within their engineering ranks, they really develop a strong product. They have the product that people want," she says.
Seeing a finished product in action is Bierman's favorite part about engineering, and she finds that the only real challenge she's faced has been to find new interests to keep her on her toes.
While she worked in Boston, Bierman pursued her MBA part-time but chose to stay in engineering for another five years because she enjoyed the technical aspects. She then moved to program management to "try something different."
Bierman worked as a systems engineer on aircrafts when she started at Honeywell, moving into customer support for navigation equipment on commercial aircrafts before taking her current position. Now she works on initiatives to improve program execution, such as the engineering development process.
Although she doesn't do the same hands-on technical work she did during her time in industry, Bierman says working closely with the engineering development process—and maintaining her role in SWE—keeps her foot in the door and allows her a part on both sides.